Adventures of The Girl*
There's been a little, ahem,
concern
about my lack of posting.
Um, yeah, I really haven't been posting at all, have I?
Sigh.
It's been a rough couple of months, and without wanting to complain, let me just say that by the time I get home from work these days, I can barely even stand to turn on my computer, let alone put together any kind of a coherent post.
To be honest, I haven't even been knitting really.
I've been *looks both ways, makes sure no one can overhear me* reading. And not
Bookish Girl
style, where I knit, and converse, and read all at the same time. No. I've just been Nose in the Book, Don't Talk to Me, Yes This Book
IS
an Impenetrable Wall of Silence reading.
I really don't want things to go on this way, though. I have been sorely out of balance, and I used this past weekend as a way to begin regaining my equilibrium.
How, you ask?
I went to Maryland: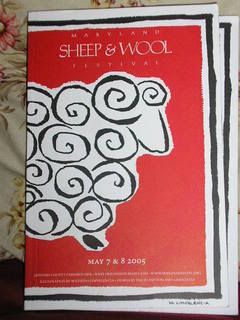 I took this one picture on my way from my car to the fairgrounds: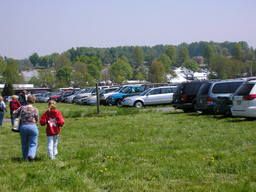 I had dinner with these
fabulous
and
amazing
and
wonderful
and
witty
and
lovely
and
terrific
women on Saturday night: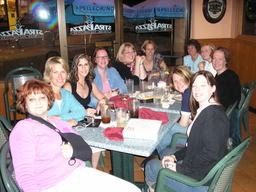 I haven't linked to everyone yet, but I will update with the rest of the blog links as I have them. Needless to say - all of these women were great and you would never have guessed that many of us were meeting each other for the first time. Did we talk about knitting? You bet. Would we still have had things to talk about if the subject of knitting had been banned? Absolutely.
Okay, that's not entirely true. We all spent a goodly amount of time feeling up Donna (she's the hottie in the gorgeous blue hooded cardigan sitting between awesome Rebecca and elegant Eilene) in her finished Mariah. Freakin' unbelievably gorgeous.
I bought a little bit of yarn: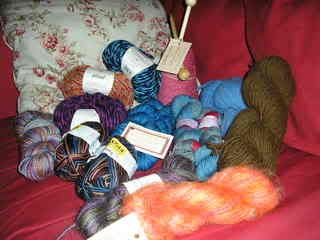 And I had a hell of a weekend.
I know that in the greater scheme of things I didn't take a lot of pictures, and I'll tell you why - even though I went to the festival primarily to "meet" bloggers I've only met through the knitblogging community, it felt like an offline vacation. Michelle and Lauren both opened up their homes to me, a stranger, and yet I never felt like I was going to meet people, I felt that I was going to visit with friends that I don't get a chance to see often and because of that, I didn't really feel the need to take lots of pictures or think about feeding the blog while I was there. I've been so blessed to meet the people I've met via blogging -
Wendy
,
Jackie
,
Melanie
,
Debbie
, and
Maryse
to name only a few - and they are people that have really become friends rather than knitting friends. This means that I see them more often than I blog about seeing them, and I think about them even more often than that.
Going to meet my Maryland girls felt the same, and it felt pretty personal.
So, what I'd like to tell you is this:
Michelle
and her wonderful family Mike, Marah, and Gabe hosted me from Thursday to Saturday, and
Lauren
and her incredibly generous husband Kris (plus
their
lovely family - Jen, Bella, Rusty, and Quincy) hosted me from Saturday to Sunday afternoon. I had a wonderful time the whole time I was on vacation, and I have some particularly favorite memories that I know will be special to me for years to come.
*Michelle's son Gabe spent the majority of my visit calling me The Girl, but in the most adorably charming way. Hee hee.
Happy knitting all.