What Would Ben Do?*
Or, Stuff You Learn Hanging Out With
Crazy Ass Knitters
.
Maryse said she didn't call us that, but she did.
After yesterday, I'd have to agree.
A
bunch
of
us
crazy
ass
knitters
wandered a little north of Boston yesterday and found ourselves at
Stitchy McYarnpants'
house yesterday for food, fun, knitting, laughing, and one sweet yarn swap.
We all toodled down from Stitchy's gorgeous condo to her awesome rumpus room before Maryse arrived, but never fear - a note was left for Maryse that pretty accurately summed up, well, everything: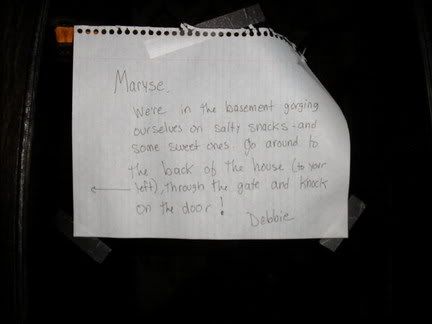 Are you starting to get the picture?
We had a great yarn swap, which we did up
Yankee Swap
style, and no matter
what
Debbie might say (she hasn't said anything yet, but she will, she
will
), it was perfectly legit for me to take the yarn she had chosen, which just happened to be six skeins of
Classic Elite's Inca Alpaca
:
Now, all the swap yarn was gorgeous, but when I felt this stuff I just wanted to roll around in it, so I decided that the gorgeous alpaca yarn had to come live at my house.
So there was about five hours of hilarity before the picture taking began, but when it began, we had pretty terrific subject matter. Namely -
Wendy
and her
Tips For Meeting Bloggers
.
Maryse brought the Sharpies, Wendy supplied her belly, blog-feeding ensued:
Melanoma Uberalis
: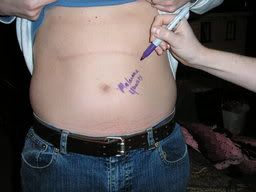 Bag n' Trash
:
Um,
me
:
Stitchy McYarnpants
(Scary ghost style):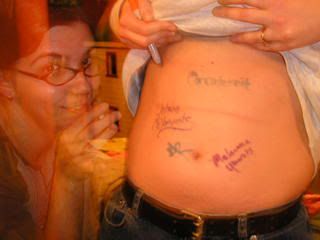 And finally, the picture that made me fall down laughing: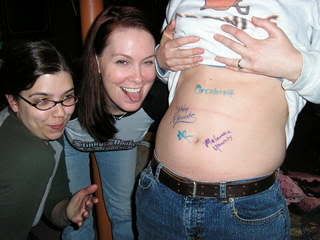 Good times, ladies. Good times. Thanks for your fabulous hostessing, Debbie - I hope we do it again soon.
*I don't know if you've had the good fortune to meet Benedetta, the author of
Sgomitolando
, but I finally had the pleasure of meeting her yesterday. More than once during the course of the afternoon, Ben came to the knitting rescue, and I thought I'd like it if we had colored plastic bracelets that said "WWBD?" because well, Ben's just rad.
~~~~~~~~~~~~~~~~~~~~~~~~~~~~~~~~~~~~~~
Speaking of rad people, there's another supremely rad person that I need to thank. Nancy, author of
Got Ewe in Stitches
(you *do* read her blog, right? She's freaking hilarious, and cute as a button, to boot), sent me a really wonderful RAOK: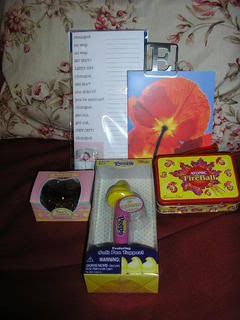 I should tell you first of all that what isn't in the picture is the pen she sent me (from the college I graduated from - how cool!) and the 2nd Bordeaux that well, hardly made it all the way out of the box before I snarfed it up.
Nancy sent me a Peep pen, an "E" bookmark, a very funny notepad, two
See's
Bordeaux, a small lunchbox shaped tin filled with Atomic Fireballs, and a really lovely card.
Thanks, Nancy - you made my week.
Okay folks, have a terrific week, and happy knitting!