I May Not Be Safe Here Much Longer
Not if
Stitchy
has anything to do with it.
Now, no matter what she says, you have to believe that I'm not nearly as insane as that photo of me would lead you to believe. Ahem - you believe me, right?
I was thinking today (no jokes now, you funny-pants) and I hope you don't think I do nothing but hoard yarn. I knit. I even finish things I knit. Evidence: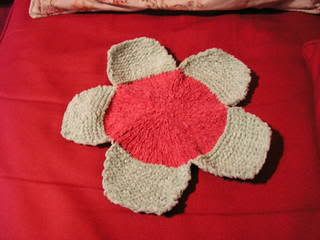 One finished flower washcloth, thank you very much.
So, with Stitchy out there gunning for me (or pawing for me, as the case may be), what I want to know is this: If I have to make a quit getaway, can I hide out in your town?
~~~~~~~~~~~~~~~~~~~~~~~~
Oh -
Jay
asked how I managed to finagle such cool gifts from
Nancy
. The answer? I honestly have no idea. Nancy just rules.