Bling Bling
I took the day off work today to get some new bling:
That's right - your very own Ms. Concateknit is a 30-year old freak with braces.
No, it doesn't bother me much.
Not really.
Not
really
.
~~~~~~~~~~~~~~~~~~~~~~~~~~~~~~
Luckily, braces don't effect my ability to knit: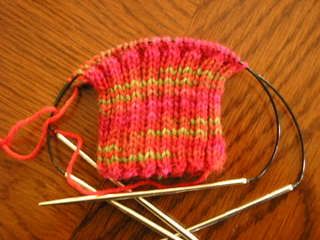 Yarn:
Knit Picks Sock Garden
(awesome yarn, btw)
This is my first sock knit on two circular needles, and I think I'd really love it if I wasn't using stupid Inox circs. Has anyone else had trouble with their Inox joins being really rough? I feel like I'm scratching the hell out of my yarn.
The solution? I stopped by the Snow Goose and bought myself two pair of US 3 Addi Turbo circs.
I think I deserved a little knit-therapy today.