K Minus 4*
Or, That Scarf Won't Knit Itself
It's been a busy few weeks here at Chez Concateknit, and although I've been thinking about you all quite a lot, I haven't had the energy to do much more than think. The actual blogging? Not so much.
Last time I blogged, I told you about my knitting schedule, and I must admit, I felt pretty smug about it. Yeah, well, best laid plans, blah, blah, blah. The scarf WILL be done by Friday, but it requires a much more agressive (and much less cocky) knitting schedule. Every minute I spend typing is one less minute I can dedicate to The Scarf.
So today you're getting a post in pictures.
Friday:
This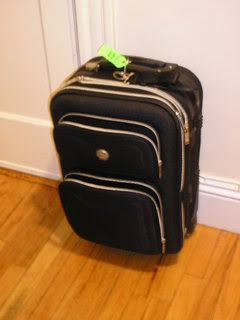 Plus this
Equals this
That's one happy, blurry girl
Saturday:
To our left
Across the street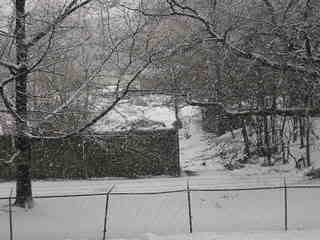 To our right
Kim - are you sure you still want to come?
I'm just kidding. If you change your mind, I'll get on a plane, come get you and bring you back. We will have Fun while you're here. We're going to be like the Post Office (but not the scary one): neither rain, not sleet, nor hail, nor a little bitty bit of snow, will keep us from having Fun.
*Kim will be here in 4 days - woo hoo!!!