Hi, I Almost Got Run Over Today
No shit.
Those of you who know me may know that I am a fairly aggressive pedestrian. I DO live in Boston, though, and living in Boston means that should you EVER want to cross a street, ANY street, in fact, EVER, you have to be at least a little aggressive.
But I should back up a bit. I know I've mentioned my commute home before - the last leg of my commute involves either a bus or a trolley. If I manage to catch the bus then I end up crossing just one intersection, and it has a stoplight (and I always wait for Walky Guy), and once I'm across I'm home in no time. If I have to take the trolley, I end up about half a mile from my house and I have to cross one intersection that on a good day is only mildly terrifying. In order to cross that intersection, I have to take advantage of lulls in the traffic and wade out about halfway across the street and wait for the cars coming the other direction to stop and let me cross the rest of the way.
Tonight? Tonight was actually looking pretty good for crossing the intersection, so there I was standing in the middle of the intersection, plainly visible to the car coming from the opposite direction, and you know what he did? He almost hit me. In fact, he came so close to hitting me that a car that had just turned the corner at the intersection I was trying to cross actually stopped because well, I can only guess because he was expecting the guy to hit me, and he wanted to be there just in case. Okay, seriously - when a Boston driver pulls over like that? You know that what just happened was exactly as terrifying as you thought it was. Me - I just screamed "YOU FUCKING ASSHOLE!" as loud as I could, and I'll tell you guys honestly, if that guy had stopped or tried to give me any shit about crossing the street, I would have punched his lights out.
Immediately after the car nearly smooshed me and I yelled my ass off at the Smoosher, I immediately felt like bursting into tears. Luckily I was only about a block from my house, so I was able to get a big hug from Mike before I went and laid on the bed in a fetal position, waiting for the shaking to stop and my heart to slow down.
And you know what else? I keep making these lovely plans for my evenings that seem to be nothing more than pipe dreams. Last night I had every intention of coming home from work, eating a little dinner, chatting with Mike, reading a little from "Jonathan Strange and Mr. Norrell", and maybe, oh I don't know, knitting a little, but you know what happened instead?
I spent 3 hours working on database design for my new job.
I love my new job, but what the fuck is wrong with my head?
In all honesty, I might be making more time for knitting if I wasn't so damn bored with the Ribby Cardi.
La Ribby: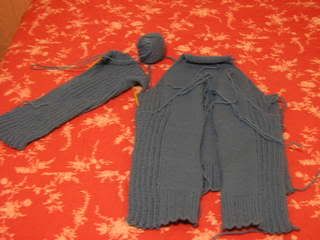 Ho Hum
I did take a mini-break and start working on this: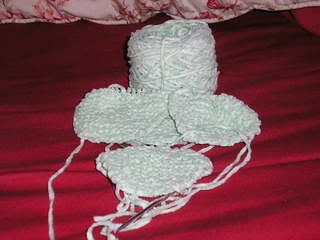 That's 4 out of 5 petals for the chenile washcloth from Weekend Knitting. Um, yeah, I know you guys are all just freaking out because of my mad knitting output. Pfft.
~~~~~~~~~~~~~~~~~~~~~~~~~~~~~
Big Fun, Part III
When I last left you, Kim, Mike and I had just left Jordan's and were heading off for Big Fun, Part III.
Um, yeah - we all went out to dinner.
Of course, we went to dinner in the North End, and we went to my favorite little restaurant, Tratoria il Panino (no, NOT the one in Fanueil Hall), and had a really wonderful little meal. Kim forgot to bring Wavy with her that night (the coldest part of her visit, of course), but just so you know that I really did finish Wavy on time, here's a picture: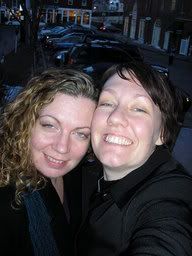 Hey - did I tell you I almost got run over today???