All Hands on Deck!
Or, Kim will be here next Friday and she doesn't own a scarf.
Obviously, that is a situation that can not stand. I was trying to explain what The Teens feel like, but it's hard to wrap your mind around that kind of cold when you've grown up in Northern California. Believe me, I know.
Naturally, I felt that the best way to prepare for Kim's upcoming visit to the Land of Cold was to knit her a scarf. She requested blue and I got to work: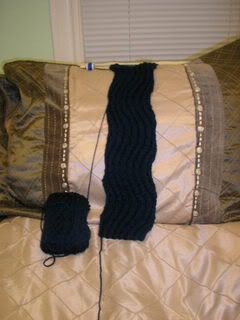 That's about a third of a
Wavy
scarf, and right on schedule. Weekend days require completion of one full repeat, but I'm easier on myself during the week, and only have to complete a quarter of a repeat. This scarf will be ready and waiting for my dearest Kim when she arrives.
psst...did you notice the pillow sham in the background of the scarf picture? yeah - well, that sham, plus the matching duvet, a down comforter and a 600 thread count sheet set came to live at my house yesterday. needless to say, it was hard to get out of bed this morning.
Mike and I also bought something Very Grown Up this weekend. We bought a vacuum cleaner: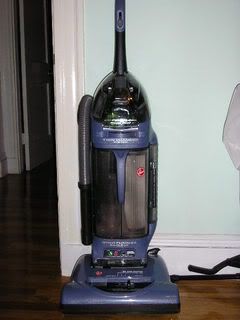 My grown up response to my grown up purchase? I said to Mike: If I were a household appliance, I'd marry that vacuum cleaner.
So in the midst of all my February madness, y'know, having to
think
a lot of stuff, I forgot to
tell
you something pretty cool-
I'm going to the
Maryland Sheep & Wool Festival
. It's official. I've bought the tickets and reserved my rental car.
It's cool that I'm going to the festival for many reasons, but the coolest reason is that I'm staying with two of the
Coolest
.
Bloggers.Ever
. Do you know that the fact that I've never actually met either of these two people doesn't seem strange to me at all? I've always been one to trust my intuition, and this situation is no exception. Both Michelle and Lauren are simply terrific people (you've read their blogs - there's no doubting their terrificality) and I just feel LUCKY to have the opportunity to spend some quality time with each of them. Yay!
Speaking of terrific people who happen to be bloggers, one of them celebrated her birthday last week. And I mean, celebrated it ALL of last week. I was lucky enough to get in on some of the birthday fun, which meant spending another terrific evening with Mr. and
Mrs. Bookish
, Ms. (soon to be Mrs, tee hee)
Project
, Mrs.
Melanoma
, and Mrs.
Yarnpants
. Fuckin' A. You can imagine how much fun that was. Okay, well you can try to imagine how much fun it was, and then triple it.
You bloggers are just too cool.