We Interrupt Our Regularly Scheduled Program
To bring you three Very Important Updates:
One: Good Hair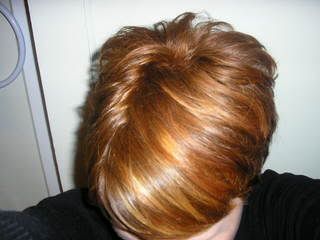 The side view: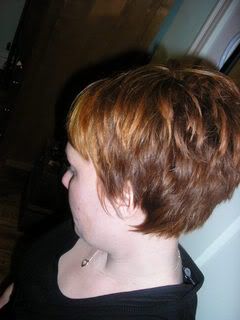 I have rectified the Bad Hair Situation by replacing the Bad with Good. I went to Portsmouth, NH today and had a wonderful stylist named Jill fix the badness that has been living on top of my head, causing me great trauma, making me feel like an unpretty kitty.
Believe me ladies, this is Big News at Chez Concateknit.
Two: Stash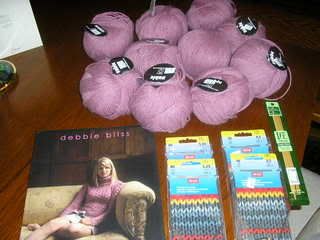 The yarn? 50% off. I'll be making
Lara
from the
Debbie Bliss Alpaca Silk
book for $40. Yesterday, I bought the 10 balls of yarn that were available, and in a purely flogical moment, I thought "10 balls is enough to make this sweater. I can definitely make a sweater for 10 balls of yarn". Um - sure. You know why that was flogical, right? It's flogical because I really just thought 10 balls = enough to make a sweater, without any thought at all to how many yards were in each ball. Luckily I was right - but it was dumb luck. Oh, the yarn is Sable, which is a 70% merino, 30% angora blend. Sweet, no?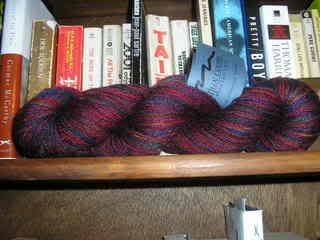 Bearfoot by Mountain Colors
. Sweet merciful Mary, there was no way I was getting out of the LYS without this. It makes me Very Happy. It all comes back to sock yarn, baby. It really does.
Three: Well-Behaved Muffins Make Beautiful Socks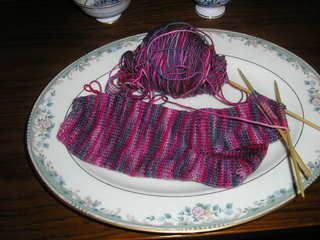 I really love working with the
Koigu KPPPM
. It's feels great, and it works up into the most beautiful fabric ever. I've said it before, and I'll say it again, if I was yarn, I'd marry some Koigu KPPPM.
Tomorrow I'll starting thinking things again. Promise.