National Flogic Day, Part IV
Or, Why Elisa Isn't Allowed to Hang Things Anymore
I've always believed that a house isn't a home until there are pictures on the walls. That means that almost before I do anything else, I start deciding where pictures will be hung on the wall.
A year ago, when Mike and I moved into our apartment, I took a day off of work so that I could do some speed unpacking to help us get settled in as quickly as possible. Our first apartment had been awful and so I was even more anxious and excited than usual to get our boxes unpacked and our pictures hung.
Actually, the only important statement in the previous paragraph is that I said that
I
took a day off. Yes, I was home by myself.
Of course, I was 29 years old and perfectly capable of being left alone to unpack a house and hang pictures.
Or so we thought.
I got a lot accomplished that day: I unpacked our entire kitchen and pantry, unpacked and shelved 12 boxes of books, unpacked over a thousand cds, hundreds of albums, two wardrobes, and of course, hung a ton of pictures.
It's the pictures I'm not allowed to go near anymore.
Why?
Well, ahem, I'll show you: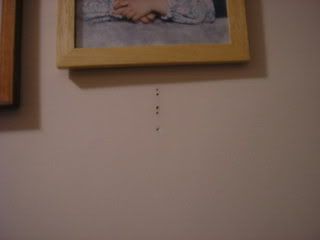 These holes live in the foyer underneath a picture of Mike's daughter. You see, I thought the stud thingy ran horizontally, so I kept trying to get a nail in the wall just above or below the area where my nail kept getting stuck.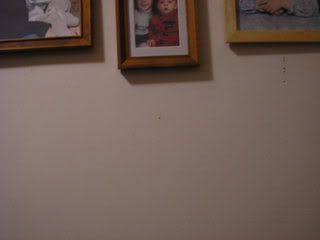 A widescreen view. Notice the holes underneath the other two photos? Here's when I started to get a little confused. I mean, if I could hang the original three pictures, why couldn't I get a nail in the wall 12" below the first nail? Remember, I was convinced that the stud thingy ran horizontally.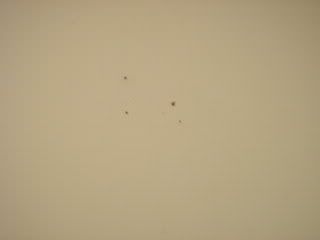 One of my bedroom walls. This is where I finally gave up.
When Mike came home, well, there was a lot of laughter at my expense. Now when he sees me with a hammer in hand, he'll just point to the holes in the wall.
But mostly he just laughs.
Needless to say, not a single picture has been hung in my house for almost a year.
~~~~~~~~~~~~~~~~~~~~~~~~~~~~~~~~~~~~~~~
In retail therapy news: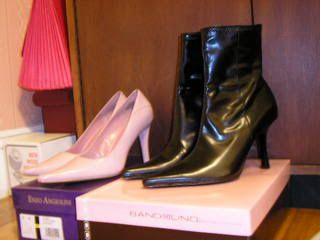 Those boots are going to help me grieve for the broken boots, may they rest in peace.
And in case you couldn't tell, yes, those most certainly are pink high heels.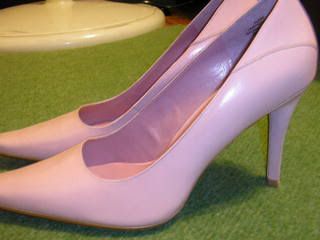 After I bought the pumps, my car seemed to go on auto pilot and I ended up at
A Good Yarn
: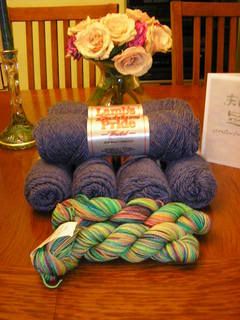 That's six skeins of Lamb's Pride Worsted (hate the new label, btw) in Blue Magic, and two skeins of Koigu KPPPM.
And just so you don't start thinking that I all I do is make holes in the wall and buy yarn: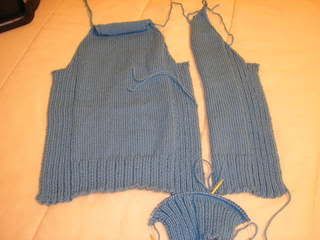 I've finished the back and left front of my Ribby Cardi, and have cast on for the right front. It's a fairly straightforward knit and even though the Peruvian Highland Wool is no KPPPM, it's still quite nice.
I do have an FO to share with you, but since the FO is a birthday gift, I'm going to wait and post the photos after I know the recipient has received and opened the gift. Tee hee.
Thank you for all your kind get well wishes yesterday! I'm feeling much better now thanks to a day of rest, a boyfriend returned safely home, and some damn successful retail therapy.
I hope everyone has a terrific weekend and stay tuned for the final two "National Elisa Thinks...Day" posts.
Now I've got to get back to my program: Cops - Bad Girls 4.