National Elisa Thinks Today is Patriots Day
You WILL be watching the Super Bowl this evening, right?
I just want to say that, no matter what happens, I think the New England Patriots are an amazing team. They run onto the field together, they don't talk smack about opposing teams, they are humble when others talk about the Patriots being a dynasty, and oh, they've won two Super Bowls in the past three years and they finished the season 14-2.
The fact that Tom Brady is a native Northern California boy doesn't hurt, either.
~~~~~~~~~~~~~~~~~~~~~~~~~~~~~~~~~~~~~~~~~~~~~~
In Other News:
You know that I have a new job. You know that it's a Big Girl Job. Well, it's a new Big Girl Job that I L.O.V.E. It isn't an easy job, in fact, it's a very hard job and it is going to keep me very busy. I'll probably have to bring work home from time to time, and for that, I need some kind of item that will transport work from my office to my house. No, now is not the time to remind me that I have a closet full of the kinds of items I am talking about because I will laugh in your face. I will categorically deny that any such appropriate item actually lives at my house.
Or at least, I would have said that until I brought this choice little baby home: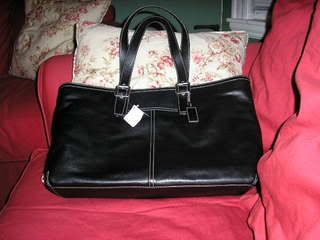 Can you hear me giggling?
I know that I seem to be pretty happy, but you see, as a result of having a new job that I love, I'm having nightmares that involve being made to go back to my old job. Let's just say that my new little Coach item helps me close the door on the old job. I mean, the old job was so un-Coach-worthy. ;)
~~~~~~~~~~~~~~~~~~~~~~~~~~~~~~~~~~~~~~~~~~~~~
In knitting news, let me show you my back: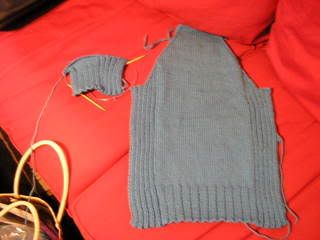 The back of my Ribby Cardi, that is.
I finished the back while Mike and I were in New Hampshire this weekend, and am about 4" into the left front of the cardigan. I still enjoy knitting this as much as I did when I first CO for it, and I am much less nervous about the seaming and finishing since I was able to conquer, ahem, subjugate, ehm, finish the Very Bad Sweater.
~~~~~~~~~~~~~~~~~~~~~~~~~~~~~~~~~~~~~~~~~~~~
In Blogging News:
I'd like to apologize for the posting fiasco that was Friday. Our internet connectivity has been terrible and we had a repairman out Friday afternoon to unbreak the Internet for us. He was successful, but as soon as the Internet stopped being stupid and broken, Blogger went wonky and would not let me post. Finally, after some hair pulling, swear-word inducing, anxiety raising minutes, Blogger showed that I had posted successfully and I shut down my computer and ran out the door (just so I could sit in traffic, of course).
This afternoon, when I got home and pulled up my blog, I saw that I had successfully posted not once, but five times on Friday. Sigh.
Go Pats!