National Elisa Thinks Nothing Good Can Come From Bananas Day
Well,
maybe
banana bread, but that's a big maybe.
I have a friend who hates bananas as much as I do, but she eats them every day because they are "good for you". I saw Screw That.
If I happen to like something that is good for me, well, fine. If I happen to think that something tastes terrible, well, then I don't care if it is good for me or not, I'm not having it.
Maybe that's the best thing about being a grown up: not having to eat something just because it's good for me.
My dad's second wife had this whole "no thank you helping" thing that really made me crazy. No matter what she was serving, you had to eat at least a small helping of it or you wouldn't be excused from the table. I spent a few formative years eating at least one thing I didn't like that was supposedly good for me at each meal, and when I was finally old enough to make my own choices about what I would and wouldn't eat, I decided categorically that I would never eat a banana again. I can't stand the smell, I can't stand the taste, I can't stand the way that they get brown and mushy. I can't stand anything banana flavored, and if I get the banana flavored jelly bean, I'll spit it out and say (or squawk, more likely) Blech! Ack! Ick!
I'll throw down for the hot buttered popcorn flavored jelly bean, but the banana is all yours.
If you like bananas (and I'm sure you don't, especially as today is all about how Stupid and Bad bananas are), rest assured that I will
never
fight you for one. Yuck.
~~~~~~~~~~~~~~~~~~~~~~~~~~~~~~~~~~~~~~~~~~
I spent a little time getting to know the outlet shops in North Conway and Tilton, NH this weekend, and this is a sampling of some of the items that followed me home: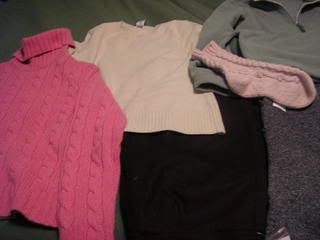 That there haul includes a $4.00 skirt and a $10.00 pair of purple wool pants from The Gap. No shit.
And now I'm rockin' it
Lolly style
, because, well, who doesn't love
Lolly Lauren
?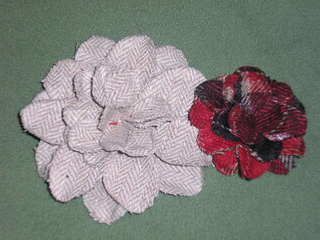 Two little fabric flower pins that now live at my house.
But I've saved the best for last. We all know that I'm not terribly practical when it comes to choosing the right footwear for the right occasion.* Mike has been trying to get me to buy "practical" winter boots now for quite a while (read: since he's known me). I caved when I was at the outlets. I went for "practical". But I went practical in true Concateknit style: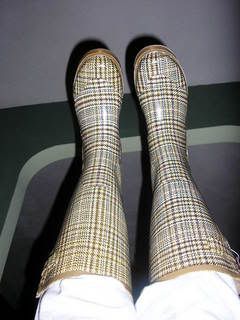 Why yes, those are knee high plaid rain boots. And yes, I am wearing them with my sweat pants shoved into them. Is that my ceiling you see in the background? Well, duh. I mean, how would you take a picture of your new knee high plaid rain boots?
If you haven't heard the good news already, go
here
. Then come back. I'll wait.
Isn't that just the greatest news? I haven't known
her
for very long, but I can tell you that she's an absolute doll, and she deserves all the happiness that a long life filled with lots of love and joy can bring her. The wheels are in motion for
The Plan
.
I also wanted to take a minute to say thanks for the
great comments you left about Kim Day
. If you haven't checked out the comments for yesterday's post, you have a couple of minutes, and you're interested in learning a few little known facts about yours truly, well, Kim's here to help you out. I can attest to the truthfulness of all the anecdotes.
*Actually, you may not know this about me yet, but you will on Thursday.