National Elisa Thinks It's Keeping It Real Day
Or, Elisa's in a mood.
So, you guys know me right? You know that I feel rather, ahem,
strongly
, about orderliness. You know, I have that whole "
I want you to be able to open any drawer in my house
" thing. Well, today I faced up to the fact that there was a big part of my life where I wasn't keeping up to my own standards, and I felt, well,
strongly
, that I needed to take myself to task and get all my shit sorted out.
We're calling this
Keeping It Real Day
at Chez Concateknit.
I began by taking stock of the living room: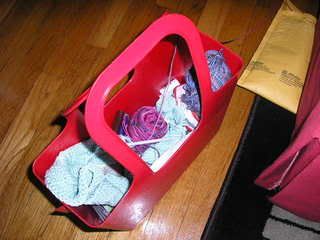 The tote is home to a baby blanket that I'm knitting for Mike's sister and BIL who are expecting their third boy in a few months.
The coffee table:
And under the coffee table: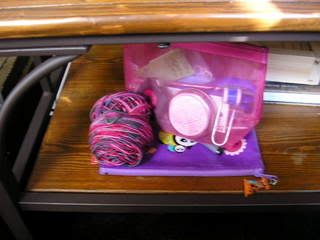 Here's where it starts to go wrong: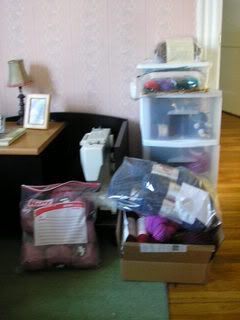 This was (some of) my stash in the spare bedroom. That is a BAD picture. While the sight of all that yarn makes my heart warm, the site of all those muffins and boxes and bags scattered around on the floor make me feel ANXIOUS.
It gets worse: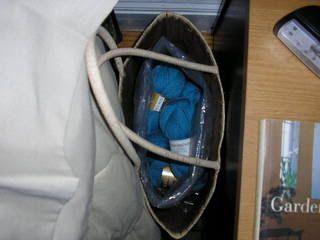 This is a bag that's hiding in the guest room between the bed and the nightstand (Kim, I swear this will be gone before you get here).
And hanging from the back of the guest room closet: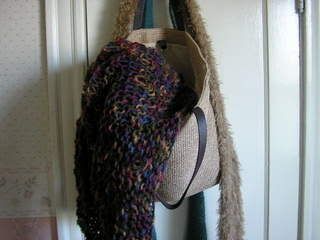 That's an afghan I keep making myself forget about. I manage not to see that bag every morning. I know it's there, but I erase it from my consciousness. No, the afghan doesn't usually erupt from the bag the way it looks in the photo.
The other thing that usually lives in that bag is this: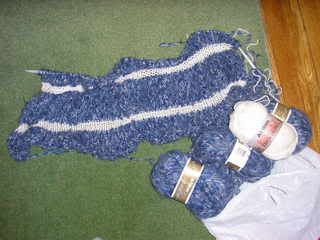 The lap blanket I am making for my G'pa's girlfriend, Deborah. I was making it for him, but when he passed away, I decided to finish it and give it to Deborah instead. I really do feel a sense of urgency about finishing this and it isn't awful to work on, it's just, well, let's just say I don't wanna.
In order to embrace and confront my shame, I brought everything out to the living room: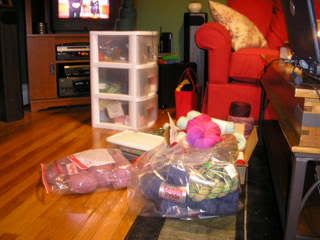 I sorted and organized: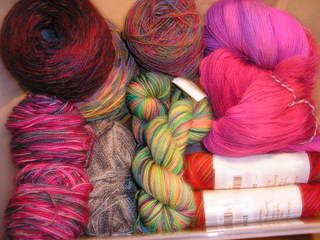 The sock yarn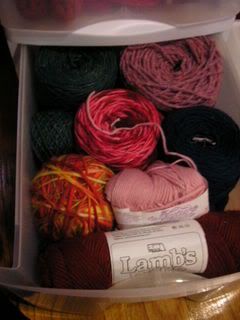 The wools and silks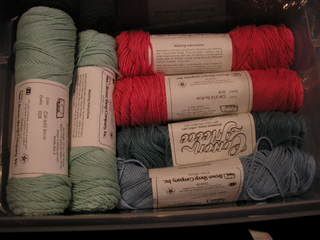 The bucket of Cotton Fleece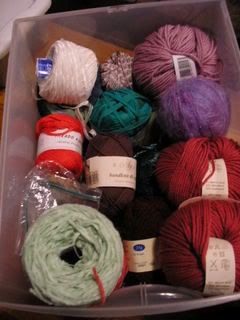 The other stuff: some Debbie Bliss, some lovely ribbon yarn, some DK weight yarn I bought to make finger puppets, that kind of thing.
I also put all the yarn destined to be sweaters into one bucket which made me ridiculously happy. Did you know that I have four sweaters planned for myself? Jesus, I knit one sweater successfully and now I've gone crazy with the sweater yarn purchases.
I also made an FO bucket. It's contents are few: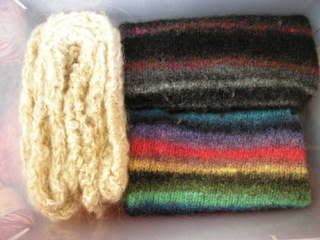 A scarf on the left and two Booga Bags on the right
So, those Booga bags? I don't want them. I knit them, felted them and promptly fell out of love with them. I really feel like they need some kind of bottom insert to help stabilize them, and I'm just not going to get around to making those inserts.
Do you want them? I swear to god, if you do, just leave me a comment that includes your email address and I'll email you for your snail mail address. There's nothing wrong with the Boogas except I don't want them, which means that They.Must.Get.Out.Of.My.House.
Also, do you remember
this
? Yeah, well, now it's this: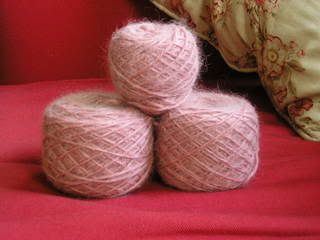 I told you, I'm in a mood and I mean business.
~~~~~~~~~~~~
In case you were wondering how I'd be spending the evening of the Oscars (and really, I can't imagine that you would), I'll be watching my newest, shiniest, most brand spanking new guilty pleasure:
Dog the Bounty Hunter
. I become giddy EVERY TIME I think about this show. You might be interested in knowing that Mike is trying to convince me that the Dog marathon has been canceled, but he's just a dirty rotten liar.