National Elisa Thinks "Ain't Love Grand?" Day
Mike left work early so that I could come home to this: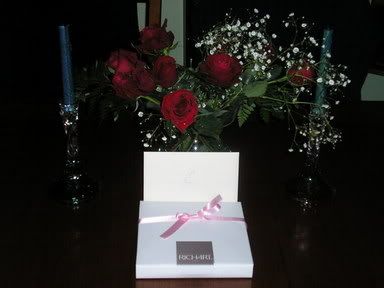 When I opened up the box of
Richart
chocolate, inside were these little specimens of chocolatey perfection:
I'd say that gets a "Hell Yeah".
Now, I got a few lovely little things for Mike for Valentine's Day, but that's really beside the point. Because I want to tell you why today is National Elisa Thinks "Ain't Love Grand?" Day.
I'll be the first to admit that Valentine's Day is primarily about consumerism and the greeting card and flower industries making a buck (or many more bucks than A Buck, duh) but I don't see how that differs from many of the other gift giving holidays I celebrate, and personally, I'm in favor of any occasion where I get to buy gifts for people.
I know people say this all the time, but it really is the thought that counts when it comes to gift giving. Some of the best gifts I've ever gotten have not been the most expensive gifts, but they've always been the most thoughtful.
What makes the gifts that Mike gave me this year so special are the facts that 1) Mike arranged those roses himself and 2) He was so excited when I got home that he couldn't wait for me to open the card and the chocolates. Mike gives gifts in the best possible way - without thought to what he himself would like or want. For example, for about three years I asked EVERYONE I KNEW for "The Karate Kid" on DVD, but no one would get it for me.. The first Christmas that Mike and I were dating, what did he give me? You got it - "The Karate Kid". He doesn't like the movie (I know, it's hard to believe, he's so perfect otherwise) but he got it for me because he knew how much I wanted the movie.
Seems like a small thing, doesn't it? I suppose it is, but it gets at a real spirit of giving that never fails to move me. The same way that him buying, trimming, and arranging roses for me moves me, his desire to do something that will make me happy is the reason that I continue to celebrate silly commercial holidays. He reminds me that the true test of love is not in being able or willing to pay an exorbinant price for a dozen roses, but in paying the kind of attention to someone else that always leads him to pick That Thing that will always be absolutely perfect.
Ain't Love Grand?