Life Is Good
No really, it is.
I mentioned that I will start a new job soon and I couldn't be more excited. I will continue to work for the same non-profit organization, but I will be doing more hands-on grant-related work and working with a group of
terrific
people. This just feels
right
. I feel lighter than I've felt in ages, and I just can't wait to start this new phase in my career. Wow, it really is starting to feel like a career. How crazy is that? I won't be working down the hall from
The Bookish Girl
, but I'll only be an elevator ride away. :)
Obviously the new job is a good thing, but it isn't the only one. Mike and I spent a wonderful New Year's Eve with
Keiko and Tim
and many other new and not-so-new friends. I called my aunt at midnight and told her how thankful I was that she is the matriarch of our family and what a beautiful example she sets of the true meaning of family. I welcomed the new year with a kiss, some champagne, and the feeling that the world held untold possibilities.
The good stuff just keeps coming, too. I had two wonderful packages waiting for me when I got home from work today. The first package included a CD that my cousin Stephanie made from a reel-to-reel tape of one of my G'pa's barbershop quartet performances. This is special for so many reasons, not least of which is that my G'pa had his vocal cords and voicebox removed when I was about twelve years old (stop smoking now, okay?) so when I listened to the CD tonight, it was the first time I had heard his voice in almost 20 years. Mike is going to make one of the tracks into an MP3 so that I can upload it here for you to listen to if you like.
The second package had this inside:
It is a beginner's needle felting kit from
Fiber Trends
, and a lovely gifty from my Knitter's Review Secret Pal II. The crazy thing is that she had this sent to me in November and I've only received it now. Oh, and did you know that my KR SPII designed
this
,
this
, and last but not least,
this
? Yep - my KR SPII was the fabulous
MK Carroll
. If you aren't familiar with her designs yet, I have a feeling you soon will be. I swear I may learn to crochet just so I can make that swankarific sushi TP holder.
In the midst of all the holiday craziness, I never showed you my last FOs of 2004: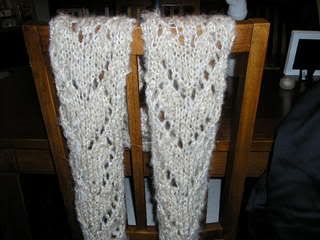 The Heart Scarf from the
Knitty Fall Surprise
. The Bookish Girl
knit
one of these scarves for her grandma and I thought it was really sweet. I knit mine using
Patons Divine
rather than
Reynolds Blizzard
, but it's soft and squooshy just the same.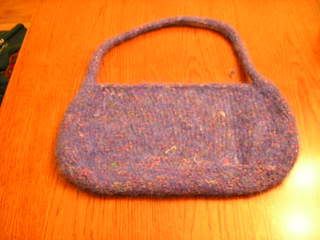 Sophie 4. I think I'm done with Sophie for a while. No, seriously, I really mean it. Well, I
want
to mean it, but you know how it goes...
My Irish Hiking Scarf is coming along very slowly, and I felt like I wanted to have a little something else going on to keep from stabbing myself in the eye with my cable needle, so I started this:
It's the boatneck sweater from Debbie Bliss'
"Baby Knits for Beginner's"
using
Brown Sheep Company's Cotton Fleece
. Mike's sister and BIL are expecting their third son, so I think this will be a sweater for him. I've read that Debbie Bliss' sizing can be a little on the large side, but I'm keeping my fingers crossed and hoping for the best.
Well, lovies, it's been a pretty good week so far, and it only promises to get better.
Welcome 2005 - I'm very glad you're here.