Ho *shiver* Hum *shiver*
I've started every day this week with what seems like boundless energy. I putter around my house wishing I had the day off to clean and organize, certain that when I get home from work I am going to accomplish everything on my various to-do lists.
Then I end up standing outside for 30 minutes waiting for my shuttle, and by the time it arrives* and I start to thaw out, the only thing I can wrap my mind around is putting on my sweats and burrowing into my couch.
Because, you know,
it's f*cking cold in Boston
. I'm not even playing. I know I'm from California, and that's supposed to make me something of a weather weenie, but let me tell you, EVERYONE is complaining about how cold it is.
To celebrate how cold and bitter I'm feeling, I've decided to show you some progress pictures, which really illustrate how s.l.o.w. I'm moving this week.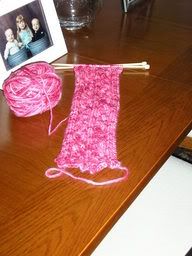 My Irish Hiking Scarf. You'd think with how cold it is, I'd feel some sense of urgency to get this thing, maybe, like, done, but you'd be wrong. I haven't touched this scarf in days. I grunt and grimace every time I put on my muppet pelt but I still can't bring myself to work on the Irish Hiking Scarf.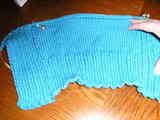 This is the progress I've made on my Ribby Cardi. I really enjoy knitting this. I had some quality car knitting time yesterday morning when it took us 1h and 20m to go 6, seis, sei, six, yep SIX, miles. But I was knitting, not driving, so you won't hear me complain. Nope.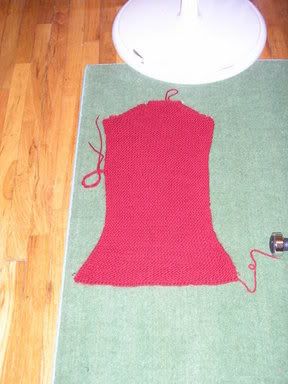 And just so you don't think it's completely slipped off my radar again (or alternately, just so you don't think it's being punished again) I give you the OTHER sleeve of the VBS. It should be moving out of my house and into its new owner's house sometime next month. Yay for the sweater. Yay for blocking.
I was really glad to learn that I'm not the only pen wh*re out there, and for those of you who asked - I become positively giddy when I get to buy office supplies. One of the things I'm hugely excited about with my new job is that I will get to devise my own filing system, which will certainly include color coding and hole punching and lots of file folders.
Happy (more productive than me) knitting, all. :)
*Oh yeah - when I get on the shuttle, I still have one train and one bus left to ride before I end up near my house. Ha-
rumph
.
*Edited to Add: In the comments, Jennifer asked what "parking ban" means. I'm happy to explain: a parking ban goes into effect when a snow emergency is declared. You are required to move your car off of main roads in order to allow snow plows to clear the snow off of busy streets. I happen to live on one of those main roads, which means that if there is a parking ban, I can't park on my street without risking getting tickets and/or towed. For more information, you can go here.