Hi, How Have You Been?
I've been a little busy.
I'm trying to wrap things up in my current job and get prepared for my new job, and all in all, I'm feeling a little overwhelmed. I'm going to work part-time for my current department for some period of time(does that "some period" make you as nervous as it makes me?) so I don't have to have everything finished by Friday, but part of me would prefer a clean break, rather than this unspecified period of transition time.
On the plus side,
Mrs. Bookish
and I had lunch together yesterday, and I saw her Very Cute Self no less than four times today, and that was very, very cool.
To keep myself sane, I've been knitting a lot, and thinking about knitting a lot, and planning upcoming knitting projects. A lot. I did finish Mike's Irish Hiking Scarf: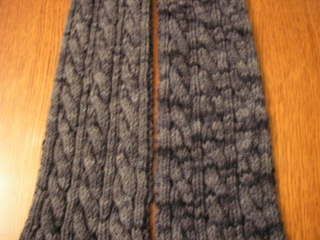 I'm really pleased with my first cabled item, and Mike really likes it, too. He wore the scarf all day yesterday, and, I'm totally serious here, I think he likes it better than the cashmere (blend, but still) scarf I made him in November.
Note to self: Boys don't always make sense.
Although there were moments when I thought about stabbing myself in the ear with my cable needle to relieve the boredom of knitting Mike's scarf, I've decided I need to have one, too.
Don't ask why. I'm stressed. Maybe I just can't put one more new thing in my brain until I can let go of some of the useless stuff currently taking up real estate in there. Who knows.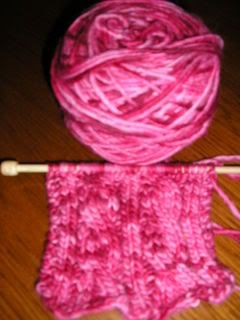 It is just about the most gorgeous merino wool you ever saw, though.
I never told you that I had to go to the
scary post office
last week to pick up a package of yarn. The package was from
elann
, and the yarn was this: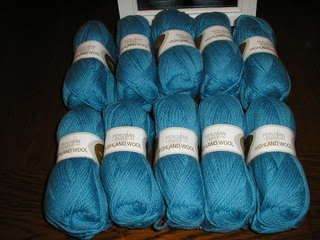 10 skeins of
Peruvian Highland Wool
in color 4144, a rich teal blue. I felt completely incapable of picking out two colors for my ribby cardi, so I've decided to do the entire thing in blue.
Don't let all this talk of cluttered brains and ribby cardis make you think I've forgotten about socks, though.
Far from it: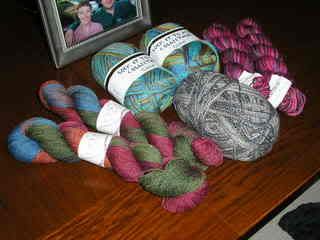 This is my *very* modest sock yarn collection. Today's enhancement includes two skeins of
Lorna's Laces Shepherd Sock
, the Tuscany colorway, and two skeins of
KPPPM
in a great mixture of pinks, blues, greens and oranges.
Thanks for all your great comments about the finished socks. I look at them and have a hard time believing I actually knit them with my own hands. I had a moments of perfect happiness while knitting each sock. I'd reach the heel flap and think "oh yeah, baby, this is what it's all about".
It's a busy life, but it's a good one.