Are You Worried About Your Feminine Hygiene?
If you are, please visit
here
and
here
to learn how to stay nice and fresh so that your DH won't stop loving you. Go ahead, take a look. I'll wait.
Freaked out yet? Yeah, me too. The links to these two ads were posted by someone on a list I belong to, and I thought they were worth sharing with you. I find the ads hilarious in a What The Fuck?!? kind of way. It also makes me glad I was raised by my dad, because there was no way he would ever have been able to have a conversation with me about my "freshness".
Seriously, though, I'd love to find one of these in print so I could frame it and hang it in my bathroom.
I am finding it hard to segue from vaginal douching to knitting, so I'll just start with a picture: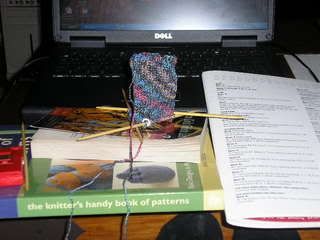 It's a sock, just in case you were wondering.
My first sock to be precise. I've been recently inspired by some
great
knitbloggers
to pull out the sock yarn and teensy weensy dpns and get started. The picture above is what I had accomplished by about noon yesterday. I am using Plymouth Sockotta and US Size 3 dpns (which really aren't that small, I know) and following the Basic Sock pattern in the "
Knit A Dozen Socks
" booklet. So far I have been able to follow the pattern easily, but I haven't reached the heel flap yet, so if you hear some heel flap centered cursing coming from somewhere a little south of Boston, then you're probably close to my house.
My little sweet socky, which is in no way related to vaginal douching, is sitting on top of the book I'm re-reading,
"Nice Girls Finish Last"
by Sparkle Hayter.
Sparkle Hayter
is an author who is part of a genre of mystery writing called
Tart Noir
. If you like mystery novels with smart and funny heroines, check out
Tart City
for an introduction to some great female mystery writers (and a rockin' good time, too).
Speaking of rockin' good times - I've had plenty this weekend (how's that for a segue, hmm?). Although Friday night did not begin auspiciously (read, "I took the wrong train and ended up in North Quincy"), I ended up spending a lovely evening with
Keiko
,
Jackie
,
Wendy
, and two very nice friends of Jackie (friends that she has recently recruited to the fiber side). We enjoyed Jackie's lovely home and hospitality, and a fine time was had by all. All those bloggers in one room and you'd think someone who have a photo essay documenting Mrs. Bookish "investigating" the wine, but no...You'll just have to take my word for it that it was Funny.
We continued the revelry last night by having dinner at the
Milky Way
with Jackie and her SO Eric, Wendy and Rob, and then we bowled! There was a lot of good luck butt wiggling, some beer, some knitting, and a very good time indeed.
Today I will try and finish my first sock while watching the
NFC playoff games
.
Tomorrow I'll try to take the right train home from work.
It's a good life.
PS-The "What Are You Doing?" photo of Mike has become my desktop wallpaper. Hee hee hee...