You Know I'm a Vegetarian, and I Know I'm a Vegetarian
But the people at the
Pit Stop BBQ
in Dorchester don't need to know.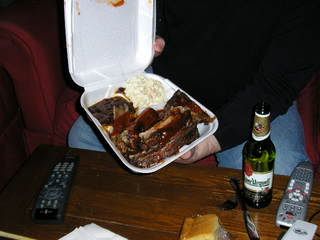 Actually, this is Mike's dinner from the Pit Stop: Ribs, baked beans, and potato salad. As for me, well, I had the best macaroni and cheese anyone has ever had. Somehow, during its preparation, the mac and cheese probably comes into contact with something meaty, and I'm sure that's why it is so damn good.
Last weekend started out with BBQ and it just got better. Seriously.
Saturday evening I met Melanie from
melanoma uberalis
for coffee and a quick button tutorial. Really, all I did was help her sign up for
photobucket
. She took it from there, and have you seen the amazing button and banner she created along with all the great buttons she has uploaded to her site? Fabulous. I really hope that we'll be able to get together again soon, and maybe do some actual knitting. Or not. She's just a lot of fun. :)
After I left Melanie to the
Knitsmiths
, Mike and I headed out to get our first Christmas tree:
I really love Christmas. I start planning my Christmas gifts in May and singing Christmas songs in June. I don't let myself decorate for Christmas before Thanksgiving, but by December 1st, I am really itching to break out the snowman made out of a sweat sock (you'll see him later, be patient) and all the ornaments I have collected over the years plus the newer ornaments that Mike and I have collected together. I love walking into my house after a long and ridiculous commute to the smell of pine. I love the hustle and bustle of the shoppers and the parties and the silly twinkling lights. I'm sorry, I'm done, you can stop gagging now.
Mike and I went to Chez Bookish on Sunday and spent a delightful afternoon and evening with
Mr. and Mrs. Bookishness
and
Ms. Projectness
and her charming SO, Eric. We had drinking. We had football. We had knitting. Most of all, we had wonderful company and conversation. So much wonderful company in fact, Mike and I are going back again this Sunday.
After Sunday, the rest of the week is kind of a blur. Tonight I met up with the new Southie SnB at
Cafe Arpeggio
and got a good bit done on my sister's poncho:
(Why yes, that is a snowman made out of a sweat sock, how funny you should notice.)
This was the second meeting of this incarnation of the Southie SnB and it was a lot of fun. Jackie was there working on
Caili's hat
,
Keiko
was working on (surprise) a blue scarf, Amy was working on a lovely skinny scarf for a friend of hers who is moving to California (and so has no need for a big wooly affair), and Nicole was working on a chemo hat that she started and probably finished tonight. Thanks, ladies, for lots of laughter and great conversation. I look forward to seeing you all next week!
I got some very good news today - I've been approved to the FiberRAOK ring! I've been in the queue for a couple of months and got word this afternoon that I'm in. Woohoo! Now I need to spend some time surfing the ring and getting ideas for little things to send out. What fun.
I'll leave you with a final shot of my Christmas tree. Please forgive the not-so-fabulous tree topper.
Oh, and Sue? The linen closet photos are coming...