Shocked
I'm still in shock. I was living in California during the quake of '89, and although it was frightening, we never lost power, never lost cable, never lost our telephone service. I remember going to the movies that night. I remember being amused that a photo booth full of film fell on my then-boyfriend's head during the quake. I remember going to school the next day and being shocked to find out that school was closed for the day in order to check for earthquake damage. Perhaps I wasn't effected by the earthquake as much as I should have been because I was only 15 at the time, and I still believed I was invincible. Now that I am twice as old as I was then, now that I know that none of us are invincible, I am stunned and shocked by the devastation caused by the earthquake and tidal waves in Asia. I hardly know how to wrap my mind around it.
Here
is a list of some organizations accepting donations to help those devastated by the earthquake and tidal waves. I'm not sure which of these organizations to give to, so if you have a personal favorite, or if there are organizations that you would recommend, let me know and I will add those links.
The Bookish Girl
outed me
today
. You may know that she recently got a new job, and today she posted the story of
how
she got new job. I was
peripherally
involved, but don't let her fool you - I passed along her resume, her obvious intelligence and qualifications did the rest. I'm sure she will be tremendously successful, and I'm just glad I was in the right place at the right time and able to offer a little assistance.
Of course, it could just be that I want lunchtime knitting buddies. ;)
I've been knitting, albeit slowly, on this: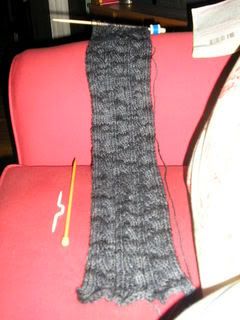 Irish Hiking Scarf
Cable detail
On a very positive note, Mandy's blog,
Yarnageddon
, is up and running again, and you should stop by and say hello if you haven't already. She's been sorely missed in blogland, and I am thrilled to have her back.