The Problem With Blogging Only Once A Week
Is that when I do finally blog, I have too much to say.
So, I'll just keep this short and get to the point(s):
Point 1: FOs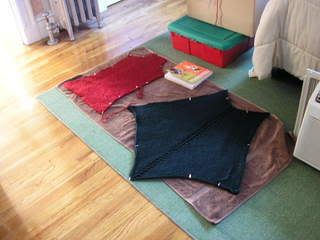 My sister's poncho, and yes, the first sleeve of the Bad, Bad, Bad, Bad Sweater, blocking on the guest room floor. Once I've wrapped the poncho, I'll block the rest of the sweater, and with any luck, it will be ready for its intended recipient by Thursday. Oh shit. Maybe not. I conveniently forgot that it still needs to be seamed. And that it still needs a neck. Harumph. Shit.
Point 2: WIPs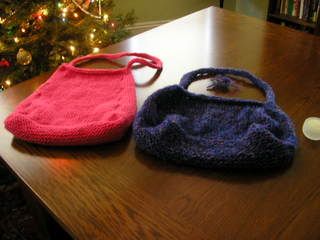 Sophie 3 and Sophie 4, pre-felt. Yes, I know I have a problem. Be quiet.
Point 3: Sundays with Mr. and Mrs. Bookish
I highly recommend spending your Sundays this way. I realize you can't all spend your Sundays with Wendy and Rob, but the underlying philosophy is sound: spend time with amazingly warm, funny, and smart people, share laughter, stories, good food and drinks, and end your weekend with a warm fuzzy glow that will make you not care that you have to get up and go to work the next day.
Point 4: Christmas will be over by this time next week
And having said that, I've decided to relax about the whole thing. The important thing is being able to spend time with Mike and our families and friends. Little else really matters, so if I don't get everything done that I'd like to?
Eh
. No big deal. I don't think most people would mind having a gift to open in January.
Amie
and
Lauren
? I promise that the next time Mike has a business trip to Maryland, I'll try to go, too. Don't forget that you are always welcome
here
.