If You're Looking for Me
I'll be the one in the corner mumbling about looking like a sausage.
I had this whole idea that I'd be at my goal weight by my 30th birthday. Um,
right
. That hasn't exactly
happened
. I've been able to ignore this "where'd my feet go?" weight gain for the most part. Since it is sweater and coat season, I haven't had to really confront my, er, largesse.
Until I needed to start planning my outfit for my company's holiday party.
Now, you know me, right? A little OCD. A little, shall we say, organized? If you've been to my house, you know that you could probably open any drawer (one of my drawers, we're not talking about any of Mike's drawers, of course) in my house and find nice little stacks or rows of whatever it is lives in that particular drawer.
This is what my spare bedroom, where my clothes closet is, looked like after the What Am I Going to Wear to the Holiday Party and Did These Pants Always Make Me Look Like a Sausage Unpleasantness: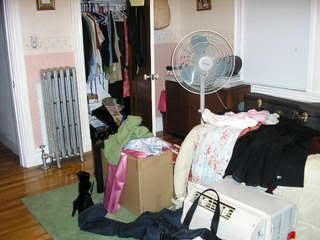 Thank god for shoes and handbags. No matter what I weigh, they never make me look like a sausage.
I took the day off today and will head into Boston later to get my
hair cut
(at least I'll have good hair, sexy shoes, and a great handbag, right?) and then I'll do a little Christmas shopping before I head to the
hotel
to get ready for the
party
.
The UPS man came to see me today. He brought me a box of
See's
from my dear friend Caroline. Want to guess what one of my New Year's resolutions will be?
Knitting blog? What? Oh, sure. I cast on for Sophie 4 yesterday and am making excellent progress on the sister poncho. I should get some quality knitting time in this weekend, as I'll be spending another lovely Sunday at
Chez Bookish
.
Dude
, I totally forgot to mention that Wendy taught me how to cable last weekend! I've carried my little cable swatch with me all week. Thanks, Wendy!
Also, I mentioned in my last post that I was approved for membership in the FiberRAOK ring and I've alredy received a wonderful RAOK - a gift certificate to
Adagio Teas
from
Lisa
. Thank you so much, Lisa! I've already decided what I want to
order
, and I'll think of you when I have my first cup of tea! Thank you,
Nancy
, for welcoming me to the ring. I know I'll enjoy the rest of the lovelies on the ring if you're any indication of the type of people involved. :)
Happy knitting everyone.