Houston, We Have a Cold
Oh boy, do we ever.
I should have known something was amiss when I spent all of Monday feeling tired. I got a decent amount of sleep, I spent a wonderfully relaxing Sunday at
Chez Bookish
, and yet on Monday, I was just
tired
.
Mike left for a business trip on Monday afternoon, so when I got home from work I puttered around the house,
putting things away
and taking stock of where I stand with all things Christmas. I knit some on the sister poncho and just generally felt tired and missed Mike*.
By yesteray morning, though, I was feeling
funky
. I kept wandering around my house, picking things up and putting them down in random places. As I was trying to leave to catch the bus, I had to go back into the house at least three times to grab things I needed (Gloves? Check. Lunch? Check. Christmas cards? Check.), or do last minute things I had forgotten to do (Coffee pot off? Check. Heat turned down to 58 degrees? Check.). Miraculously, I made it to the bus on time.
My commute when Mike is on business trips differs from my commute when Mike is home. When Mike is home, he drives me to the Ashmont T station, where I proceed to take two buses to work, or to the Forest Hills T station, where I take the T and then a shuttle to work. When Mike is on a business trip, I can walk to the Mattapan trolley that takes me to Ashmont where I can then take the previously mentioned two buses, or I can drive to Forest Hills and take the T and then the shuttle, or I can catch the 215 bus that takes me to Ashmont, and well, I'm sure you get the point.
Yesterday I caught the 215 and managed to get to Ashmont intact. On the second leg of my trip to work, I lost my gloves. On the third leg of my trip, I lost my T pass.
Seriously? I should have gone back home then, because I spent all stupid day feeling like I had medicine head without benefit of any medicine. *Sigh*
So, I stayed home today and slept until 10am. I've been knitting and drinking coffee and orange juice all day. I just finished watching "Airport 75" and now "Airport 77" is on.
The big question is - should I go to the Southie SnB tonight? I really want to, but I have this whole Grandma guilt thing going...you know, it goes something like, "If you are too sick to go to work, you are too sick to go to the SnB". I will probably just stay home, wrap presents, and start to put together the boxes that need to be shipped to family and friends around the country. Jackie, I hope you have a great time tonight!
In knitting news, the sister poncho is finished and just needs blocking and I have started an
Irish Hiking Scarf
which has no chance of being finished by Christmas. No, I can't tell you why I started it yesterday except that I really wanted to practice my new cabling skill. Actually, that's exactly the reason I started it...
In other news, the party on Friday night was a lot of fun:
Mike (cute as a button) and Elisa (thankful she still has collarbones to offset those chipmunky cheeks)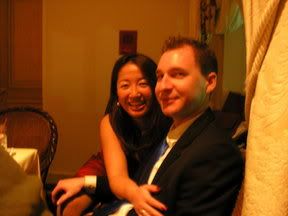 Keiko and Tim (both adorable)
Thank you all for your kind comments about
The Unpleasantness
. You all rock.
*By the way, he's in Maryland. If you happen to be in Elkton and you see him, tell him we need coffee, okay?