Happy New Year!
And a bunch of other stuff.
I have lots to tell you, but as I am sure you are getting ready for your wonderful and exciting New Year's festivities, I'll try and keep this brief.
I found this in my mailbox last night: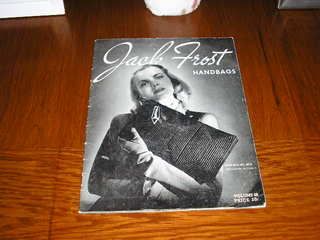 My best friend's in-laws, Sue and Randy, own the Raymond General Store in Raymond, California, and Sue was going through some old filing cabinets and found this Jack Frost pattern book. Sue is both a knitter and a lover of handbags, and since she knows that I am too, she very generously sent this to me.
An inside shot: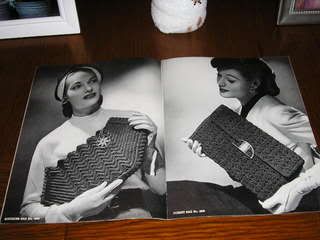 Seriously, how cool are those bags? And how cool is Sue for sending it to me?
As one of our Christmas gifts, Mike's dad and step-mother took us to see the
Trans-Siberian Orchestra
last night at the Fleet Center. Seeing this show is something of a family tradition, and last night's performance was the first that Mike and I have attended, so it was really quite the experience for us.
I had the day off today and I have spent it happily puttering around the house, watching some of my favorite good and bad movies, Ghostbusters, Demolition Man, and The Big Lebowski (you guess which I think is which, heh heh heh), cleaning and organizing things (Mike's armoire has never been more orderly), and generally having a very relaxing day. In a few minutes I'll hop in the shower (yes, I
do
know what time it is) and tonight Mike and I will spend New Year's Eve with Keiko and her husband Tim at our friend's housewarming/New Year's Eve party. It should be a lot of fun, and I am looking forward to spending my New Year's with Mike and with good friends.
I said I'd keep this brief, but as usual I fibbed, so I will wrap this up by wishing you a safe and happy New Year. I hope you spend the evening with people you love and I wish you and your families peace, happiness, and health for 2005.
Oh, and I start a new job in
three weeks
. :)
Happy New Year!