Yesterday Was...
Perfect
.
Let me show you: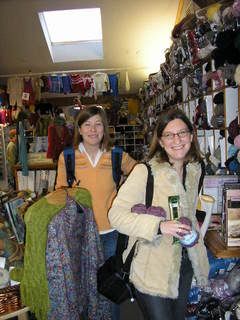 Jackie of
The JKC Project
and Wendy of
The Bookish Girl
at Snow Goose Yarns in E. Milton, Ma.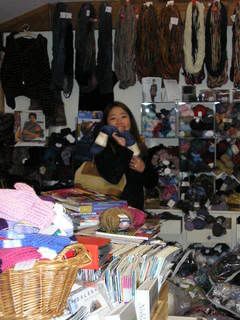 Keiko, in front of the Colinette/Noro wall, fondling some blue (surprising, no?) yarn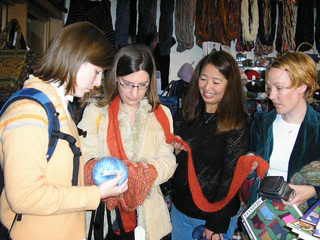 The four of us, examining some lovely scarves and ever-so-slowly inching towards the drawers filled with
Rowan's Kidsilk Haze
This is what I brought home with me: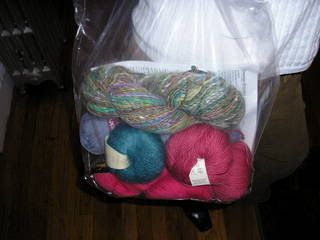 Which turned into this when spread out on my dining room table: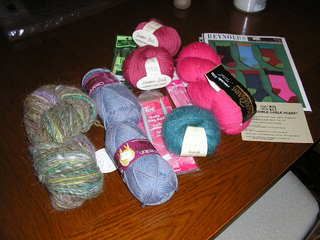 I have almost too much to say about yesterday morning and afternoon. I picked up Jackie from the train station yesterday morning at 10:15 and we went to A Lighter Fare in E. Milton. We had just gotten our coffee when Wendy arrived and Keiko arrived just a few minutes later. You might expect that a group of people who have either never met each other, or have only met once might experience some awkward pauses, but you know what? It never happened. We chatted all morning and afternoon as if we had known each other for years. All three women are smart, funny, and lovely and I was glad to be in their company.
After we had brunch (I LOVE brunch) we went across the hall to Snow Goose Yarns and I think we may all have gone a little crazy. It was great to be in a yarn shop with people who completely understood why I walked around the store cradling a skein of
Noro Kochoron
like a kitten, petting it and rubbing it against my neck.
Once the yarn frenzy was complete, we walked across the street to a Bruegger's Bagels, got some beverages and noshables and set to knitting. Two more hours passed in a blink of an eye and at 3:20pm we had to go our separate ways because Jackie was expected at
Real Thanksgiving
at 4:00pm.
The four of us spent five hours together and it felt like a minute. I can't wait to do it again.
When I got home yesterday, I was so excited and couldn't wait to tell Mike about the amazing time I had had. I burst in the door, and found a package from my SPIII Secret Pal waiting for me. Can you believe it? I spend a fabulous morning with three terrifically interesting people and I come home to presents?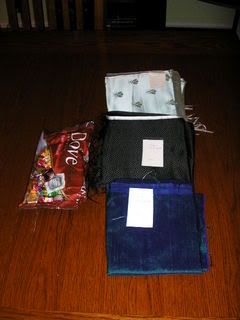 That's three pieces of beautiful silk that my Secret Pal thought would be perfect for lining knit bags (I think she's spot on about that) and a bag of Dove chocolates. Um, why yes, the bag is open...I have no idea how that happened. Ahem.
Here's a close up of one of the pieces of fabric: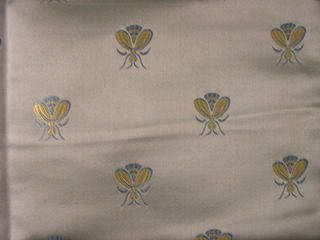 Stunning
Last night Mike and I went on a date to see
The Incredibles
. I don't go to movies often because I get pretty cranky, but nothing was going to spoil either the movie or my date. Not the kids behind me who were definitely NOT using their indoor voices, or the teenage girls in front of me who kept answering their cell phones and walking in and out of the theatre. Nope. None of that bothered me. I was on a brunch eating, yarn shopping, new friend making, stash enhancing, present receiving, date having high, and NOTHING was going to ruin it.
And nothing did. It was a perfect day.
In the midst of all the love, I got a few knitty things accomplished: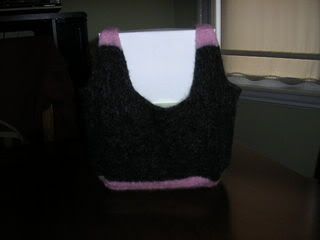 Freakin' Market Bag blocking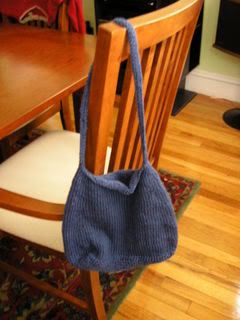 Sophie 2 finished, but not yet felted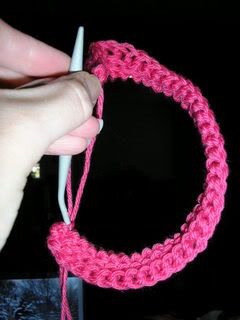 My next project - any guesses? :)
Today Mike and I are going up to New Hampshire to have an early Thanksgiving dinner with Mike's dad and step-mom, Mike's brother and sister and their spouses and kids. That's a good two hours of car knitting time to look forward to, so I should be picking up stitches on my newest project by the time we get home. Do you know what the project is yet*?
*Edited to add: No Jennifer, it's not a sock. Thanks for the guess!