The WIPing Couch
At some point yesterday, I looked at the loveseat in my living room, and realized that it ha become home to all my WIPs. I don't know when I gave up on putting each WIP in its own little bag, but my organizing muscles have obviously atrophied.
See what I mean?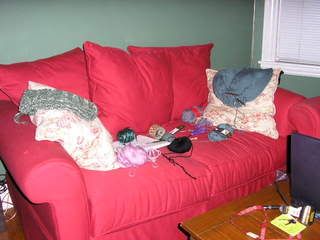 What you see is a drop stitch scarf I finished during
The Spanking
, a rose colored hat I CO today, a skein of fluffy green loveliness sent to me by my SPIII Secret Pal, a skein of cashmere blend yarn that will become a scarf for Mike (to replace the one he lost in Colorado last week), the remnants of the yarn for the drop stitch scarf, a skein of sock yarn (fyi - do not CO for your first sock, especially a child's size sock, when you've been enjoying
Old Speckled Hen
with your football games, it can only end in tragedy), and my aunt's Harlot poncho, for which I have run out of yarn. Sigh.
Maybe I should call it The Shame Couch.
I am really itching to begin work on some more difficult projects, but right now I am in serious Christmas gift knitting mode. This means that I have too many people to knit for and not enough time to make sweaters for me. So, there will be Booga Bags, hats, mittens, scarves, and maybe a French Market Bag or two, but no sweaters until after the new year.
I should show you the FO pic now so you will know that I do actually finish projects: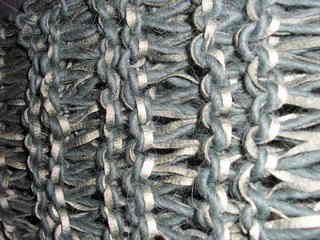 I apologize for the glare, and the yarn is really much greener than the picture shows. I am a fan of the drop stitch pattern.
Thank you for your wonderful comments about my G'pa story and my new hairdo. I've had a lot of G'pa stories on my mind lately, and I hope to share one with you now and then.
Have you read some of the great Halloween stories chronicled by our fellow knitbloggers? Here are a few of my favorite:
Amie, of RosebyAny, didn't get trick-or-treaters, but did confront her stash
,
The Bookish Girl had a smashing Halloween/Housewarming party
,
Amy, of The Boogie Knits, made two fabulous costumes
,
but the scariest entry of all:
Kay's entry on Mason-Dixon Knitting
. I was sweating the whole time I read it.
I hope your Halloween was fun, and Happy November!