Stupid Blogger Ate My Post
Now, I'm not going to lie and say it was a brilliant post, because it wasn't, but it was a good post. It was full of "I'm feeling much, much better" energy and excitement. You never know how much you take feeling fine for granted until you get knocked on your a** for a week, y'know?
The gist of yesterday's post, was something like "Looky what I did!" and it included tales of clean laundry, full frigerators, sparkling (okay, that's probably a stretch) bathrooms, and these: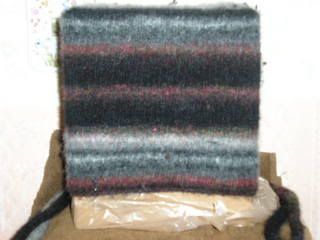 Booga 2 blocking. I felted this for a few minutes longer than my first Booga, so it is a little shorter and in dire need of a shave.
Sophie blocking. You may notice that Sophie is filled with notecards, yes, well, that's because I didn't have any other appropriately sized blocking materials for Sophie. I looked at her this morning, though, and she's no worse for the experience.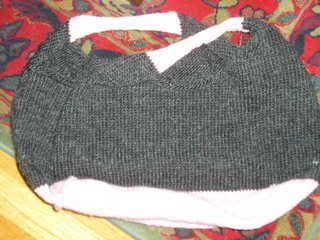 My Freakin' Market Bag, pre-washing machine love. You know this bag made me nuts, right? Yeah, well, thank goodness for the Kitchener stitch. I don't know why I like that stitch so much, but who boy, it's loads of fun. Once I got to the Kitchener stitch part of the program, I was in love with FMB again. Good times.
I wanted to share one more photo of the winter wonderland outside my house, so here you go: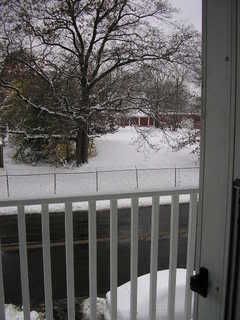 It's lovely, but it's cold!
Happy Monday everyone, and happy knitting!