Recovery Through Retail Therapy
Oh, did I mention that I received two lovely packages this week? Or that I did a *little* shopping? Hmm, I'm really surprised I forgot to tell you about that.
Do you remember that I won a certain contest hosted by the fabulous
Amy Boogie
? Well, when I arrived at work yesterday, my yarn and sheepy mug were waiting for me, along with a lovely little note from Ms. Boogie herself.
The picture below shows you both yarn (I could never describe how gorgeous this yarn is, but trust me, it's amazing, fabulous stuff) and mug (my own sheepy mug, I am the coolest girl in my house). Sharing the picture are my other purchases, the new
Interweave Knits
and "
Stitch 'N Bitch Nation
" - an under the weather girl requires ample reading material, no?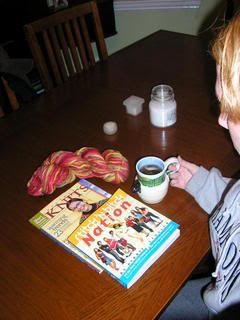 Doesn't that yarn remind you of summer?
Okay, it's a staged photo, but in real life, I carry that skein of yarn around, and in one day I've used my sheepy mug for two cups of coffee and two mugs of tea (interesting how a mug becomes a cup becomes a mug again, hmm?).
My other package was my
spinning kit
from
Inspiration Yarns
. This was my first online fiber purchase, and it was a great experience. In addition to offering this lovely beginner's spinning kit for a great price, she's got beautiful yarns in lovely colorways. If you'd like to support an independent businesswoman, or if you just want great customer service and great products, then you should really check her out.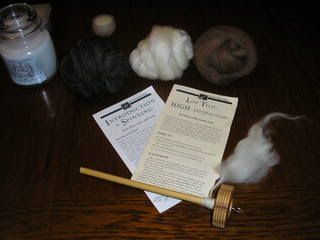 I want to thank you for the comments to the FMB Upset. Ann suggested a new name for the French Market Bag - the Friggin' Market Bag. I LMAO when I read that and immediately rechristened the bag. Ann also wondered exactly how many stitches you have to have on the needles before it's officially frogging, LOL. Of course, now that I have The Yarn from Amy, I want to punish the FMB by ignoring it completely and making myself a rockin' pair of mittens or a hat or both.
And even though my lovely commenters hadn't been humiliated by
their
knitting, they were supportive and said that it
could
happen.
I hope everyone has a great weekend, and happy knitting!