Oh, It's Friday Already?
Or, It's About Freakin' Time
It hasn't been a bad week here at Tongue Tied Muse, really. In fact, aside from Mike having the nastiness this week, it's been a pretty good week. But you see I'm like a little kid and when I have something exciting to look forward to - I can be a *little* impatient. Shut up. I said little and I meant it.
Why am I impatient? Well, because tomorrow I get to do something excellent: I'm meeting Jackie of The JKC Project for the first time in RL, and we're then meeting up with Her Bookishness and Keiko for brunch (get this, at a restaurant across the hall from a yarn shop) and then shopping at said yarn shop, and then a Kitchener Stitch demonstration by moi and hopefully a cable demonstration by Wendy, and then some knitting and, I'm certain, lots of great conversation. You understand now why I'm a little impatient?

Okay, first things second. I got a terrific gift from my KRII Secret Pal. I still haven't figured out how she got all the yarn she sent me into such a small box (I think maybe she's magic) but who boy, what a generous secret pal: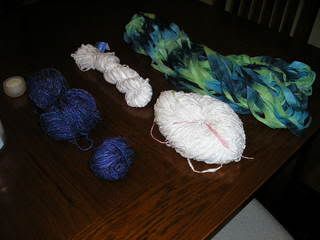 That's 3 balls of a gorgeous Himalayan recycled silk, one skein of Berocco Zen in a gorgeous white, a skein of yarn that *she recycled herself* from a silk thrift store sweater score, also white, also gorgeous, and then a skein of the most fascinating ribbon yarn by Gedifra called Clou. Also in the box (not pictured, sorry) was a copy of Annie Modesitt's "Confessions of a Knitting Heretic". Thank you Secret Pal, you really blew me away - it was a gorgeous little package full of lovely things.

I've got two FOs for this week, but um, I only took a picture of one because I completely forgot about the other until just now. I'll post a picture of the second FO later this weekend, but for now I give you: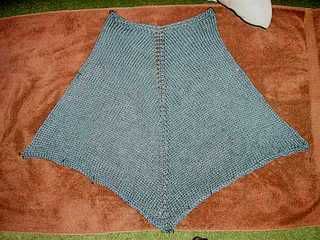 Harlot Poncho for my Aunt. No, there will be no fringe. She is not a fringe kind of gal. The specs - the Harlot's poncho pattern, plus 5 skeins of Mission Falls 1824 wool in 027 Macaw. I really loved that stuff and can't wait to use it for something else. This picture was a real pain in the ass to take, and I still don't think I came close to capturing the depth and richness of the green, so maybe I'll take an action shot ala Froggy later and see if that helps. If nothing else, it'll be more interesting than a picture of my green poncho/brown towel/green carpet, no?

I also cast on for another Sophie bag. No, I don't have a problem. I can stop making felted bags any time. Just back off.