Daytime TV Is Strange
Or, yes, I am home sick today.
By yesterday, I was unable to deny that I had "something", so I stayed in my pajamas, knit and watched football all day. How, you ask, is that any different from any other Sunday is Pajama Day? In truth, it wasn't very different, except there was no beer involved, quite a lot of tissue, and lots of general ooginess.
Although I didn't have the cognitive powers to blog yesterday, I was a productive member of the knitting society.
Please say hello to Sophie (pre-felted, as I didn't have the energy to run up and down the stairs to our washing machine, either):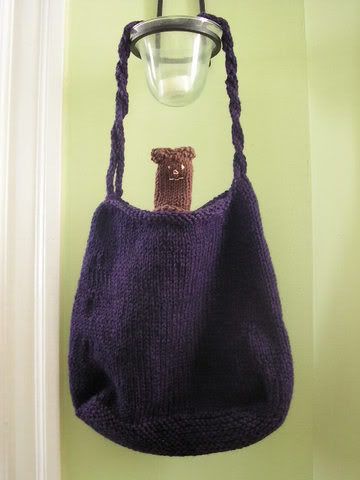 I found the Sophie pattern quite easy to follow and used the Kitchener stitch for the first time. I used the skein of Cascade 220 that my SP III Secret Pal sent me (thanks again, Secret Pal!).
And the little guy peaking out above Sophie? Well, that's the teddy bear finger puppet I mentioned on Thursday. Here he is again:
It isn't the best embroidery you'll ever see, but I think he's pretty cute.
I did go to the
Circles
Anniversary Potluck on Saturday, and it was great fun. When I arrived, my friends
Keiko
and
Nao
were there, and then a little later, Wendy,
The Bookish Girl
, arrived. This was the first time I had actually "met" Wendy, and she was just as charming and witty in person as you would expect*, and I was thrilled to meet her. I had to leave rather early, but I thoroughly enjoyed knitting and chatting with Wendy and the other women who were at the potluck. I can't wait until Circles turns two!
In addition to finishing Sophie and the Mr. Finger Puppet, I finished the I-cord for Booga 2, wove in the ends of the green drop-stitch scarf, and cast on for my French Market Bag. My list of Christmas gifts to knit is slowly getting shorter...
Okay, lovely folks, I am running out of steam, so I am going to sign off and go a-searching for something to watch on TV, although I may just end up watching one of my standard sick-girl favorites:
Foul Play
,
The Fifth Element
,
The Big Lebowski
, or
Fight Club
.
Do you have movies you like to watch when you are sick?
Have a great week, all, and happy knitting!
*And her real head is even cuter than the Curious George head in her blogger profile pic. ;)