Cast On, Frog, Cast On Again, Hide Yarn, Blame Beer
Or, Fun With the French Market Bag
I have been in love with the
French Market Bag
for months now, but felt that I needed to get a few techniques under my needles before I tried it. I took stock a few weeks ago and realized I was comfy with the techniques needed: Knitting in the round? Check. Knitting on DPNs? Check. M1? Check. Kitchener Stitch? Check. Feeling quite confident, I purchased the yarn, Brown Sheep Co.'s Nature Spun in Victorian Rose, and Lamb's Pride Worsted in Deep Charcoal. You read that last sentence, right? Quite confident? Um, yes, well...
When I went to California two weeks ago, I took the FMB pattern and yarn with me, and while I was there, I bought a set (my first) of Crystal Palace bamboo DPNs. I felt pretty good (read smug) about this purchase and planned to start working on the FMB on the plane ride home to Boston.
I spent a couple of hours at SFO before my plane boarded, and I had two beers while I waited.
Once on board the plane, I pulled out my Crystal Palace DPNs, the pattern, the gorgeous pink yarn, and got ready to astound everyone on board the plane with both my style and mad knitting skills. Did I mention I had had two beers?
Two beers = Marked increase in knitting hubris.
I CO 8 stitches onto 1 DPN and then divided them onto 4 needles. Then I couldn't figure out where to start, or how to hold the needles. I understood why people hate DPNs. Those Crystal Palace needles are the slipperiest stupid things ever.
I frogged the whole thing. Um, yeah, that's right. All 8 stitches. But I tried again. I CO 8 stitches, divided, and then 2 needles slipped out and one of the flight attendants had to help me find a needle that had fallen onto the floor. I was starting to get a little embarrassed. And I was starting to doubt myself.
Let's just say that I frogged again, CO again, and then finally stuffed everything into my bag when I realized that the yarn was starting to fray and I was getting a little red in the face. I vowed not to talk about the FMB again.
Fast forward to last Sunday. I decide to give the FMB another go. In fact, I become convinced that it was a combination of beer, bad lighting, and small turbulent airplanes that caused my FMB upset. I pulled out the yarn, the needles, and got set to try again.
And had the exact same results: CO. Frog. CO. Frog. Get mad. Slap forehead. CO. Swear. Frog. Get red in the face. Shove everything in red plastic tote.
Then I start to think (yes, I said
start
). I realize that these Crystal Palace needles are pretty to look at, but way too slippery for me or this yarn or both. I need to let go of those needles. So, I start thinking about knitting the bottom of the bag in the same way that the bottom of the Booga and Sophie bags are knit. CO x stitches, knit y rows, pick up z stitches around the perimeter, begin knitting in the round. This is the point where I start to get really scared because figuring this out means doing knit math, and, well, jeez, wouldn't you be getting scared, too? No,
Wendy
, you don't count. I know you wouldn't be scared. I know you'd enjoy it.
The next logical step? Go back to the pattern, and start the knit math. Get a little pencil, make little notations on it, pretend you can figure it out. Put off doing all that by looking through the pattern one more time. And see, very clearly, that the instructions for the alternate
knit the bag base flat version
is on page 3 of the pattern. Next next step? Giggle maniacally, slap self, wish for beer, get circular needles, work on the following for three days, take picture and post this: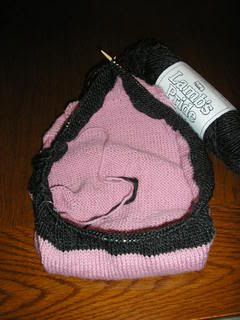 My (probably) 8th attempt at the FMB
The knit flat instructions were exactly what I was contemplating. CO 50 stitches, St st until piece is 12.5", pick up 50 stitches along each side, and there you go.
I will love this bag very, very much.
I've been home sick all week, and today I really started to get stir crazy. This means I am on the mend, and it also means that I started to feel guilty about not doing anything. So I made these: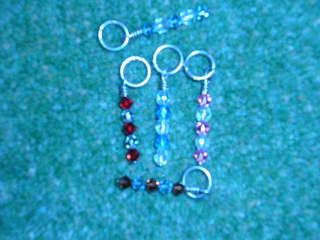 Stitch markers!
The carpet in my spare bedroom where I took this picture is not really that strange blue color, I swear.
Well, my knitterly friends, I hope your week is going well. I am going to try and clean something and make dinner before Mike gets home. Stir crazy, I tell ya.