My Weekend
The (not so, so I guess this means un-) abridged version.
The third best reason I have for moving to the East Coast is finding out about rice pilaf. Rice pilaf makes every one of Mike's family gatherings fantastic. I can always count on someone making pilaf, and they always leave some for me, because, as a vegetarian, what else am I going to eat? (If you say salad, I'll shove a carrot down your throat.)
I'm telling you about pilaf because that's where this story begins: with Thanksgiving. I had pilaf. Mike's brother M and SIL C brought the really good wine so I had both pilaf and really good wine. /Thanksgiving.
Next stop - a trip to shout out land. A big thank you shout out to
Michelle
, who actually responded to an SOS from me on Thanksgiving and is responsible for the non-wonky background image. Thank you, Michelle. I am so glad you're my blog-friend.
Moving on to Friday, here's what I did: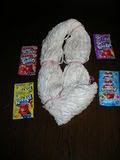 Which turned into this: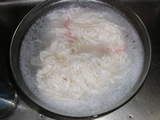 Bath time!
And then I added the clean yarn to this: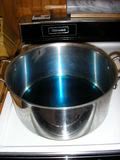 (Ignore the wood paneling, okay? Thanks.)
And ended up with this (with apologies to Keiko for not including her in the festivities, but she was in New Jersey and I needed instant gratification.):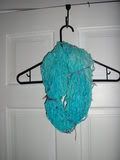 Repeat 3 times and that takes care of Friday.
Mike and I ran some errands and did a little shopping on Saturday but it isn't terribly blogworthy, sorry.
Early Sunday morning Mike left for a business trip to Chicago and I did a bunch of stuff which resulted in this: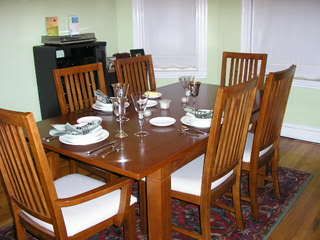 And finally, this: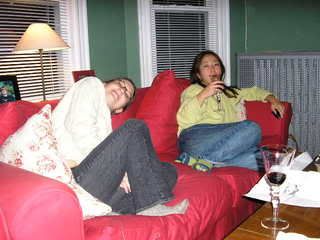 Wendy
and
Keiko
came over for dinner and we had a fabulous time. The lovely Jackie was conspicuously absent, so I won't talk too much about how much fun it was doing knit math with Wendy and listening to Keiko and Wendy discuss the merits of metric knitting patterns. No. I won't talk about those things. Or the fact that Wendy's Heart Scarf (from the
Knitty Fall Surprise
) was so beautiful that I had to buy some yarn tonight do start one of my own, though this yarn purchase may have *something* to do with needing some retail therapy, and the best therapy I could think of involved petting beautiful yarn. I also won't talk about learning how to do a
three needle BO
and getting the encouragement I needed to actually block and, ahem, finish, the
Very, Very, Very, Bad, Bad, Sweater
. Thanks again for coming over girls. It was a fine time.
I want to take a minute to thank everyone who responded to my Thanksgiving post. The thoughtful comments you left meant a great deal to me and reinforce the reasons why I am so thankful for all my blog-friends (and those blog friends who have become RL friends, and those RL friends who now have blogs, oh boy, am I thankful).
Now I only have one question for you: Is it Friday yet?
Happy Knitting all.