Sundays Are Pajama Days at My House
During football season especially, I don't find many reasons to leave the house on Sundays, so I am declaring Sundays official Pajama Day. Don't get me wrong, Pajama Day still involves taking a shower, brushing my teeth, and all that good stuff, it's just that instead of putting on jeans and blowdrying my hair, I put on a new lounging outfit (read sweatpants) and spritz in a leave-in conditioner. Let me tell you, it isn't a bad way to spend a day.
Yesterday I went to my local Goodwill store and picked up four sweaters and two books. One of the sweaters is a 100% silk black Ann Taylor cardigan (huge score), and these are the others: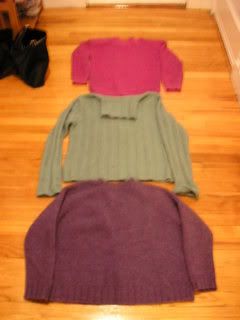 The top two sweaters are both mohair/angora blends, and the bottom is 100% wool. Now I just need to find a good article on recycling the yarn.
I felted my Booga Bag tonight, and it is drying as I type. I've already CO for the bottom of a second Booga because they are very easy and very fun to knit.
The posts and pictures from Rhinebeck attendees are already cropping up and boy, it looks like it was as good as I thought it would be. I am looking forward to reading everyone's accounts of the weekend. No really, I am.
Okay, I can't put it off any longer. I have to go watch the Yankees/Red Sox game now.
Happy knitting everyone!