New Hampshire, Stash, and Three FOs
Mike and I drove to Portsmouth yesterday, and we had a terrific day. As much as I love Boston, I love Portsmouth more. We got into town around 1:30pm and went our separate ways. Mike went to Bull Moose and I toodled off to The Yarn Basket, which worked out perfectly, as neither of us felt like we had to hurry while the other person waited. I left with this: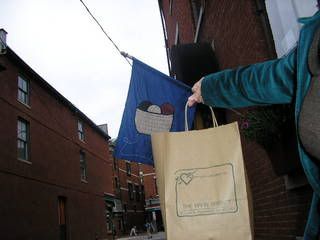 Don't you think all yarn shops should have a little flag like that outside? It was a wonderful store, incredibly well organized with a terrific selection of books and yarn and a wonderful woman helping the many customers crowding the cozy shop.
Inside the very cute bag was this: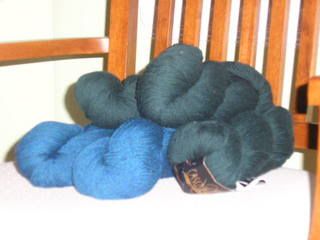 That is 5 skeins of
Cascade 220
in a forest green and a deep blue. The green will be a throw for a Christmas gift, and the blue will be a poncho for my sister, who will be 16 on December 26th.
I should mention that I finished with the shop, wandered to Bull Moose, wandered up and down Islington Street, finally over to Market Street, and had just finished picking up a couple of items for my secret pals when Mike finally called and said he was finishing at Bull Moose. ;)
Michelle
asked about the fall foliage in New Hampshire, and yes, it was really gorgeous. Mike and I drove from Portsmouth to Laconia, where Mike lived for a number of years, and it was a beautiful drive up Route 11. I'd like to tell you I took some pictures of the gorgeous views of
Lake Winnipesaukee
, or of the foliage, but I'd be lying to you. We did get a picture of this, though: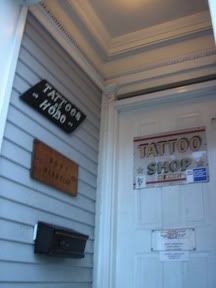 I also got a picture of the lamp on the table behind us at
The Friendly Toast
in Portsmouth, where we had a late lunch: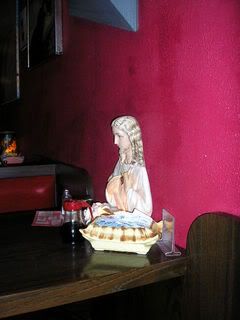 I guess you'll just have to imagine the foliage for yourself. It was beautiful, though.
Mike and I got to Laconia at about 7:30pm, and if you've ever been to that area, you know there was only one place that we HAD to go. Yep, you guessed it:
Fun Spot
. When you come to Boston, we'll go there. I'll take you to school if we play Pac Man, air hockey, Tetris, Galaga, or Frogger, but you probably don't want to play any kind of pinball game with me because it'll be a complete waste of time and tokens. I suck royally at pinball. I don't think there's ever been a worse pinball player than me. I'm not terribly uncoordinated in real life, but put me in front of a pinball machine and in charge of a couple set of flippers and I become a complete floppy twitchy nightmare. Really, it's embarrassing. You won't want to be seen with me - just remember, I warned you.
I mentioned that my package from my secret pal didn't get to me on Saturday, and it looks like it should have, so I'm hoping I'll be able to pick it up from the post office tomorrow. To console myself on Saturday, however, I stopped at Snow Goose Yarns, and picked up these: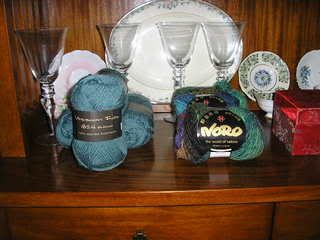 That's 4 skeins of
Mission Falls 1824 Wool
in a lovely teal, and 3 skeins of
Noro Kureyon
. No, I don't have a problem. I can stop buying Noro anytime I want. I mean, I'll run out of money eventually, right?
I'll leave you with proof that I haven't been buying yarn and playing video games exclusively over the last three days (although that wouldn't be a bad thing). I seamed the first baby hat, made a second baby hat, which I also seamed, and knit a simple drop-stitch scarf for a friend's birthday, using the last ball of the Rowan Kid Classic that I used for my poncho:
The hats: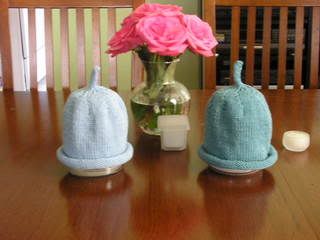 The scarf: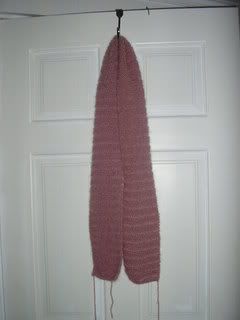 The scarf was really simple, and, if you are interested, went like this:
Materials: 1 skein Rowan Kid Classic, US 8 needles
CO 22
Rows 1-4: Knit
Row 5: *K1, YO* to last stitch, K1
Row 6: K all K stitches, dropping YO off needle
Repeat rows 1-6 until desired length, BO, add fringe if you want
Very easy, but quite pretty, especially with the Rowan.
I wanted to mention that I've been inspired by
FroggyKnits
to take a couple of items to the frog pond. Over at Jenla (I love that blog, btw)
La said she doesn't do ugly knitting
, and this too, has inspired me. I'm just not going to use yarn I hate, and I'm not going to finish things that I know I'll never wear, never like, never want to show anyone. So, if you've got a knitting bag, or corner, or dungeon, holding your unmentionables, just let them go, and frog-a-long with me. Why should we ever knit something we don't love? Like the bad boys you dated before you realized bad boys would always be bad boys and really weren't worth your time - let those bad knits go.
Have a terrific week everyone.