Mail? For Me?
Or, I didn't get a lot of sleep last night.
I'm not sure what the two have in common either, except I'm feeling a little loopy due to sleep deprivation and the emotional drain that comes with being a Red Sox fan. I can't say anything else about the Red Sox. In fact, I should probably stop even thinking about them.
But I was talking about mail. Or I wasn't, but I meant to. I came home to a wonderful gift from my Knitter's Review II Secret Pal.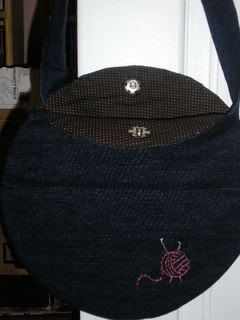 Cutest Denim Bag Ever. Can you see the brown polka dot lining and the yarn embroidery?
And inside: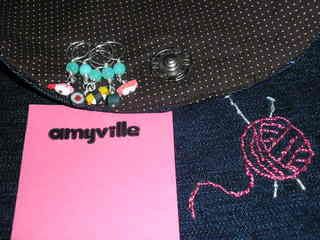 A close up of the cutest sushi stitch markers you EVER did see: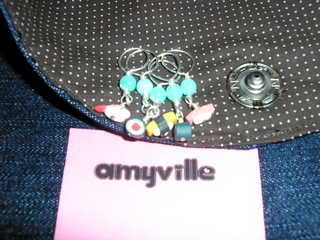 What a great gift to come home to, aside from Mike, of course. :) Thank you very much, Secret Pal, for the very thoughtful gift. The embroidery is so wonderful - am I correct in assuming you did it yourself? Just adorable. I'm a very lucky girl, erm, woman, ahem, lady, gak, girl.
I also want to say thank you to
Kaitlin
,
Wendy
, and my Secret Pal, for the links and general help regarding recycling yarn. After I finish this post, I will be off to do some research.
I credit
Lolly
for the yarn recycling idea. She has
recycled some great sweaters, and she's also dyed the wool afterwards
! She's just cool like that.
The Booga is almost finished blocking, and I can't wait for it to be completely dry: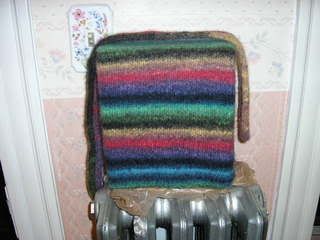 Michelle
mentioned that she is really enjoying knitting her Booga, and I completely understand. If you're a girl, and a friend of mine, it is quite possible that you will receive a Booga from me for Christmas. I hope you like them. I certainly like knitting them.
So, before I head off to watch the rest of The Baseball Game That Must Not Be Mentioned, I just want to say
thank you
again to my KR II Secret Pal and to the lovely ladies of the comments. You have all helped to make a lovely day even lovelier.
Happy Knitting!