I Think You Should Come to Boston
No, really, I think you should. It's a fun little town, and there are some
terrific yarn stores
. So, you just come visit, we'll eat some great food, and play with yarn. Just let me know when you're coming, okay?
Thanks for the great comments - no, I didn't try the scrapple, but I was very glad to have Mike try it. I like having other people do things I won't do...which includes things like eating scrapple. When you come visit, I'll probably try and get you to do things I don't want to do. But you'll like it - it'll be lots of fun.
I still have a rosy glow from my lovely weekend in Maryland, and when I look at these items, it just increases the warm, rosy glowiness: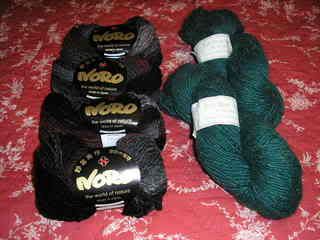 On the left we have four skeins of Noro Kureyon, purchased at
Ye Olde Knit Shoppe
in Havre de Grace. Their prices weren't terrific compared to what I've been able to find in Boston, and they didn't have any yarns I haven't seen before, but the Kureyon was a good price, and I got an additional 10% off because it was my birthday. Score for me!
On the right we have two skeins of a wool/mohair/silk blend was $8.50/skein for about 250 yards. I purchased that green loveliness at
Vulcan's Rest Fibers
in Chesapeake City and the store was really wonderful. The prices were excellent, they had lots of books and things I'd never seen before, and I only wish I would have had more time there. With any luck, though, I'll be able to visit there again soon.
This is what I've been working on for the last couple of evenings:
It's the rolled brim hat from the Debbie Bliss "Baby Knits for Beginners" book. It was simple, if a little boring, to knit, but I'm really happy with the finished product. I've read that her sizing can be kind of wonky, but the hat, at least, is great.
I got a beautiful postcard from my Knitter's Review Secret Pal that is on my fridge for me to look at all the time, and I got an email from my SPIII Secret Pal that there's a package on the way for me! Just thinking about it makes me want to giggle - I am SOOO excited. I just know that whatever she sends will be awesome. I have rad secret pals (hey, you know I grew up in California).
So, what are your plans for the long weekend? Are you coming to Boston? Just let me know, okay?