Everyone's Going to Rhinebeck But Me
Okay, I know that's not really true, but lots of people are going, and more than that, lots of
really cool people
are going. I feel like the kid who forgot to get her permission slip signed. Now all I get to do is stay in stupid Boston with all the stupid foliage and stupid yarn stores, and...alright, it really isn't so bad, is it? ;)
If you are wondering what I've been doing over the past few days, and you probably aren't, but just in case, here's a progress shot of my Booga Bag: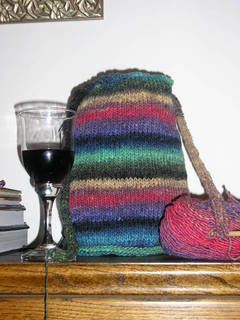 Uh, yes, that is wine with my Booga...Keiko came over yesterday and we took a field trip to
Circles
before we went to
Anna's Taqueria
and then we brought yarn and burritos back to my house, ate our yummy Mexican food (Anna's is the best taqueria I have found in Boston, btw), had a SnB group of two, and opened a bottle of wine that Keiko donated to the cause. No, I don't know what cause, but it was edifying just the same. It was an excellent evening, and I was able to get a lot done on Booga. I was able to do the BO on the train this morning and I've got a good 3 1/2' on the I-cord done. I'm hoping to finish the I-cord and the weaving in of ends during my commute and lunch tomorrow, and hopefully felting will happen tomorrow night. You see, I'll be home, able to felt because I won't be at Rhinebeck with you and all the other cool kids. No, I'm not bitter. Much. Well, not very much, I guess.
Thank you for the kind dentist visit commiseration comments - lucky for me I don't have to go back until March for my regularly scheduled cleaning.
A little shout out to my SP III Secret Pal: even though I don't get to go to Rhinebeck, I still feel like a cool kid with my snazzy red tote and my neat-o purple notions bag. I swear I think everyone is looking at my red tote and thinking "I could NEVER be as cool as that girl". Thanks again! Also, last night I made Keiko fondle the yarn you sent. ;)
If you haven't visited
Knittens
yet today, you should read her post for 10/14. I like it when neat things happen to neat people. And if you haven't visited
Got Ewe In Stitches
recently, Nancy's having a long week. If you have a moment, go to her blog and tell her a funny story. She's always sharing her great stories, so leave her a little comment and send a little of the ha-ha her way. It's the least you can do before you desert us (read me) to go to Rhinebeck.
Have a great time at Rhinebeck, please take photos, and try and look miserable in them.
Of course I'm kidding, silly - I want you to have a great time at Rhinebeck! Have a great weekend all!