Back With an FO
First off - thank you for the wonderful birthday wishes. I had an awesome weekend, and I got home to your great comments, and well, since 3 out of 5 of you are in Maryland, I wish I could have gone right back to visit with each of you.
Mike and I got up at 3am sharp, and I knit in the car, in the airport, on the airplane, and at the
bed and breakfast
. There was a lot of frenzied knitting going on. To give Mike credit, he never, not once, looked at me strangely for knitting anywhere I could grab a second. In fact, more than once he said "Do you want me to take a picture?". If I had the time, I would have kissed him. ;)
Our dinner reservations were for 7pm in Baltimore at Corks. Having said that: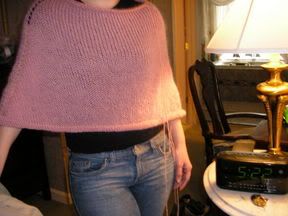 Do you see the time on the clock?
We made it to the restaurant on time, but what about the poncho???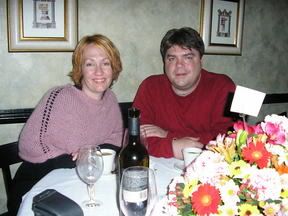 It may be a ponchoette, which may make me a harlotette, but with some blocking, I think it'll work out just fine.
You may have noticed the flowers on table...oh, you didn't? Well, take a look at the picture above and you'll see that Mike had a gorgeous bouquet of flowers delivered to the restaurant for my birthday.
This is how they looked in our room the next morning (with the Susquehanna in the background, no less):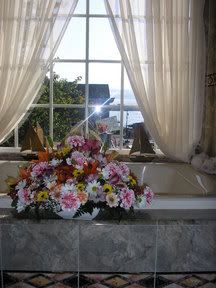 We stopped at a diner for breakfast yesterday: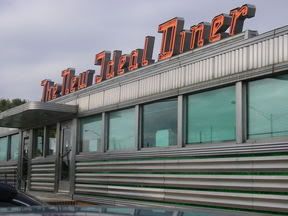 I really love diners.
And I love Mike. For many, many reasons. One of the reasons I love him is that he'll try anything once. Mike's breakfast at The New Ideal Diner included
scrapple
: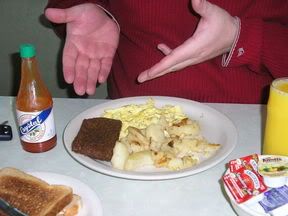 It's creamier than meatloaf apparently. ;)
I managed to go to two LYS' while I was in Maryland, and I will post pictures from my LYS adventures tomorrow.
It was a tremendous weekend, and although I am glad to be home, I am looking forward to another trip to Maryland soon.
Have a wonderful, wonderful week.