And You Shall Know Me By The Shape of My Red Plastic Tote
And you'll know my SP III Secret Pal, too, because she has one just like it.
So, my post office isn't in the best neighborhood, but I went there this morning, braved the police action at the McDonalds across the street from the PO, said a polite "thank you" to the marginally scary man who told me how nice I looked, and didn't punch the guy who made noises at me like I was some tasty meal, all in order to bring this wonderful package back to my cozy apartment: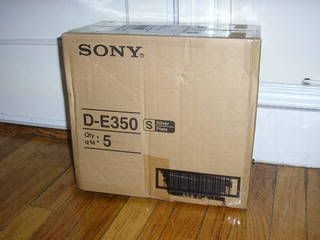 And because my SP is nothing if not considerate, this little message was on the address slip: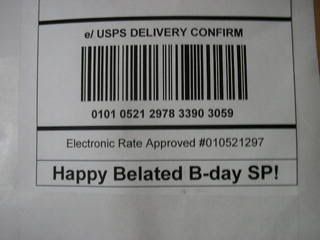 One of the lovely notes inside the package said she had adopted the twin of the fabulous red tote she sent me, and said she hoped I'd agree that good things come to those who wait. I'll add good things come to those who brave certain Boston post offices, and agree with her entirely.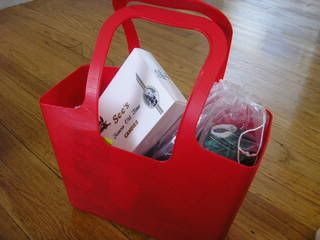 This photo was taken after I had taken the paper off of the box of
Sees Candies
. I have priorities, people.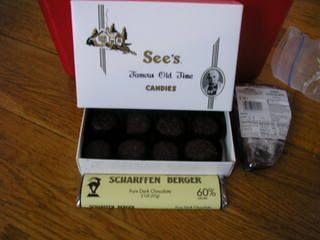 My Secret Pal, who is the bestest Secret Pal, sent me a box of
Sees Bordeaux
(my absolute favorite), a bar of
Scharffen Berger
dark chocolate (oh lord, thank you for sending me this wonderful Secret Pal), and A LOT of
Ghirardelli
chocolate. Yum.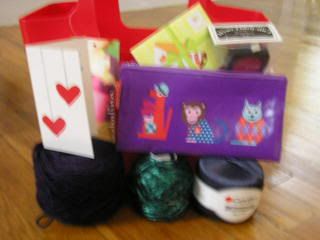 Of course, she also sent me some really wonderful yarn: a skein of
Cascade 220
, which is a beautiful purple, a skein of
Berroco Quest
, which is a terrific furry ribbon yarn in a deep green, and a skein of
Gedifra Azzurro
in a lovely medium blue. The Quest and the Azzurro will both make gorgeous scarves, and I can't wait to start playing with them. I'm hoping to start an
Irish Hiking Scarf
with the Cascade 220.
My Secret Pal also included an adorable birthday card, a tape measure, and an awesome purple bag which is perfect for the knitting notions I take with me whenever I've got a portable project (which is always).
As you can see, my newest WIP, a Booga Bag, has already jumped into the fabulous red tote. It is currently nestled in the bag, along with its sister skeins of Noro Kureyon, happily awaiting a trip out-of-doors. I'm definitely the coolest kid on the block with this bag. ;)
Secret Pal, thank you so much for your kindness, thoughtfulness, and generosity. I'll brave any PO for you. :) Knowing that I was going to pick up my presents from you today gave me something wonderful to look forward to as I was getting a cavity filled this morning!
Thanks again, Secret Pal, you rock!