You Know You're Knit Obsessed When...
You see a sign that says:
Postdocs: Improve Your World
and you really, really think it says:
Ponchos: Improve Your World
That said, I am glad that it is Wednesday. Keiko and her husband Tim are coming to our house for dinner tomorrow night, and then Mike and I are going to a wedding on Saturday. It'll be great.
I've been feeling like a bitter person the last week or so, and although I think I've mentioned that work is not terrific right now, I think I've also mentioned that I'll be 30 very soon. Mike and I are going to stay here for my birthday:
The Crazy Swede
. Initially we were going to stay in Washington DC (because I have never been there), but circumstances have made it a better idea to go stay in Maryland instead. This is a good thing, people, I promise, but I don't want to talk too much about it right now. There is an LYS in Havre de Grace, MD, though - and with any luck I'll get to go there. :)
Okay, to the knitting and the bitterness and how they relate...
I work for a cancer hospital, and last week, Keiko forwarded me an email about a program called "Caps for Kids". Last year, my hospital donated over 1,000 knit and crocheted caps to local elementary schools, day care centers, and homeless shelters. My hospital is participating again this year, and Keiko, Nao and I are going to knit caps. Yesterday, Keiko and I went to pick out some of the donated yarn, and I got this: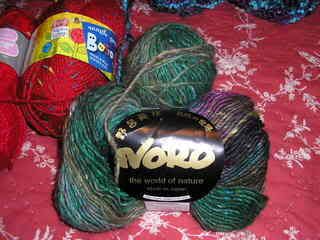 Yep, that's right...I'll be knitting my first Noro into a hat for a lucky Boston kid! I'm really excited about it.
I also picked up these items: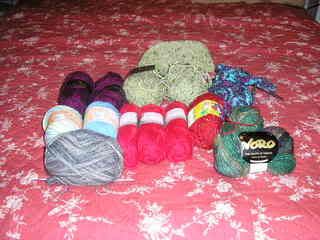 This is a cap I'm knitting from some Spinnerin wool. It's a little scratchy, and I hope it doesn't end up TOO scratchy: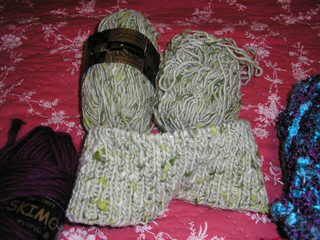 Oh, that's right - I was talking about my bitterness. Well, it's hard to be bitter for very long when you work at a cancer hospital. I needed the reminder that there are other, much worse, much more devastating things than what I am currently dealing with, and when it comes right down to it, I am lucky that I only have the issues I have. Things could
always
be worse. I see parents who are my age with kids that have cancer, and I am always in awe of their (both the parents and the children's) strength and courage. I might have a bad day, but it doesn't begin to compare. I'm lucky. I'm very, very lucky. So, enough of the bitterness for me. I'll knit my caps, and be glad that I am able to do it.
Because my G'pa is such a role model for me, and because I'm thinking about how lucky we really are to have each and every day, I just wanted to leave you with a picture of us, taken in Columbia, Ca., at
the City Hotel Restaurant
. This is one of my all-time favorite restaurants (check out their
wine list
), and my G'pa is one of my favorite people.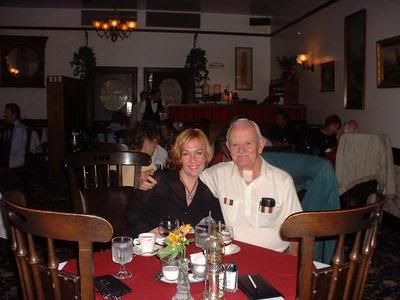 Thanks for all of your terrific comments (I've responded in the comments section)and I hope you have a great week!