This May Be The Start of Something
Or, I like mittens!
I've been ridiculously inspired by my fellow knitbloggers, and I don't think I'm the only one. If you go to
Lauren's
blog today, aside from her usual fabulousness, you can check out links to a bunch of great FOs; if you go to
Boogie's blog
, aside from
her
usual fabulousness, you can link to a post from
Norma
which I think all knitbloggers, oh hell, all bloggers, should read.
That being said - have you met
Stitchy McYarnpants
? If you haven't, go. Now. I mean it. Please. Oh lord, I'm begging you...And, if you don't want to let me down so close to my birthday, you
WILL
click on the picture of dear old Santa.
Are you back? Don't you feel better? If you were already feeling good, don't you feel terrific now? Mmm...I thought so.
I was going to talk about my mittens, though. Okay, my mitten: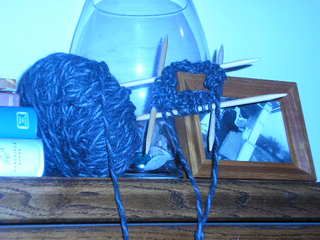 (Mike's mitten with my grandparents smooching in the background)
I'm using US 8 bamboo dpns for this, and...it's fun! Woot! The Rowan Plaid is really lovely to work with. I am glad I am using the bamboo for my first adventure in dpns, though. I think it is making the whole process much less slippery.
A girlfriend of mine, who was at the same wedding as me and Mike sent some digital pictures today, and I thought I'd share a couple with you...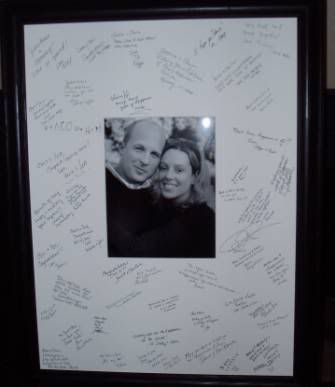 The engagement picture of the newlyweds, framed by the best wishes of those who love them.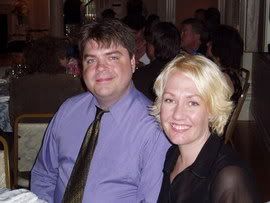 Your own extra fancy dirty girl, and her very cute boyfriend.
Happy Knitting!
Countdown to *30th* birthday: 10 days!!!
Um, remind me to tell you about Caroline and the palm trees, okay? It's relevant to my birthday, if not to anything else...
And I want to say that the daily inspiration I receive from my fellow knitbloggers is awesome. Not only are you tremendously talented people, but you are kind as well. The kindness and thoughtfulness that people show online inspires me to be kinder and more thoughtful both online and off. So...thank you.