This Good Mood Sponsored by...
Lovely weather,
Star Wars movies on DVD,
Shopping for my Secret Pals,
My very OWN Secret Pal gift,
My lovely boyfriend,
And One Finished Mitten!
If those things above aren't enough to be happy about, then I don't know what is. My Secret Pal left me a comment telling me to expect something in the mail on or around Saturday. Well, I checked the mail three times before 11am, and no dice. Finally, remembering the old watched pot saying, I decided I'd go do a little shopping for my secret pals and get outside and enjoy the great weather.
Off I went, hither and yon, and when I came back, there was a little surprise waiting for me in the mailbox!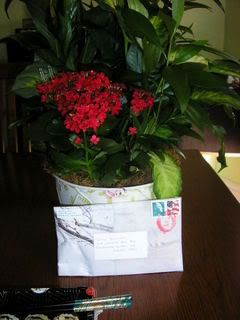 See, I don't know what my SP looks like, but I'll bet she's really cute. Only someone really cute would wrap a gift in a pattern! I could hardly stand to open it, but once I did, I was greeted by this: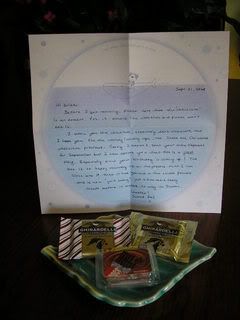 Some terrific
Ghirardelli chocolate
(some of my favorite) and a chocolate ERASER! So very, very cute...In addition to the chocolately cuteness, there was a great little note. So, thank you Secret Pal...You're the best!
About 15 minutes ago, I finished weaving the ends of Mike's first mitten. I present to you: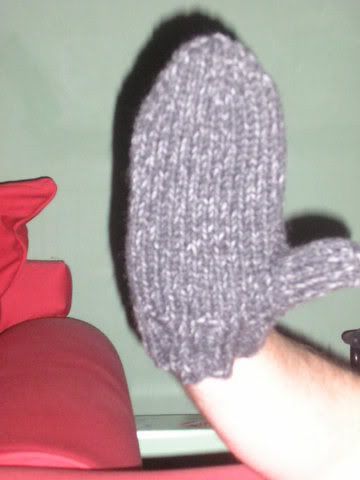 Mike's First Mitten!
I'm really pleased by the way the mitten turned out. I learned new things in the process of knitting this mitten, like using dpns, picking up stitches, and the casting on using the backwards loop methods. I'm looking forward to Mike's Second Mitten, because I'm sure that things will go even smoother.
While I was out and about today, I went to Staples to pick up a binder, dividers, sheet protectors, and stickers. Who can guess what I'm planning?
Go on, I'm waiting...
If you guessed that I'm planning a knitting pattern binder, you'd be right. I have loose bits of paper all over the place, and I want to start keeping better track of them...I also think it will be a great place for me to go for ideas when I am in need of a new project. I'll post a pic once it is organized and has some content.
So, exactly one week from today, on October 2nd, I will turn 30. I'm thinking about it a lot, but I'm not really bothered by it. I think my 30s will be great, and why shouldn't they be? Thanks for the early birthday wishes, too - I LOVE me some birthdays.
In my last post, I said I'd tell you about Caroline and palm trees, so here goes:
I hate palm trees.
Where I grew up in Northern California, they were not indigenous, and yet they were everywhere. Considering that they are ridiculously expensive, the sight of palm trees started to make me a little crazy in the head. So, every time I see a palm tree, or something with palm trees on it, I mutter "F*cking palm trees". Enter Caroline. Care is one of my best friends, and she and I have spent A LOT of time shopping together. We shop like pros. When Care and her awesome husband John were visiting me in Boston about three years ago, we decided that the true test of how well you know your friend is not knowing what to buy for them that they would
like
(that really should be easy), but knowing what to buy for them that they would
hate
. We laughed so hard over that that we decided that from then on that whenever we sent gifts we'd always send at least one that the other person would hate. I've gotten a foil palm tree with a suction cup base, she's gotten a ceramic cow painted red, white, and blue wearing a little gold crown - you see where this is going?
Three days ago, Care called me to make sure she had my correct address, and laughingly told me that she was sending me one real gift, but she was also sending something that was much better than the palm tree. In short, whatever it is, talks. Oh boy.
Thank you, as always, for stopping by and spending a few minutes with me. I hope you have a great weekend.
Secret Pal - thank you SO much for the thoughtful note and chocolates, I already feel very lucky to have you as my Secret Pal!