Sunday Evening Blues
And one FO.
Well, it is Sunday evening once more, and I'll be honest, I'm really not looking forward to going to work tomorrow. There's a lot more that I could say about that, but since this is supposed to be my knitting blog, I'll restrain myself, and just say that I really wish tomorrow was Friday. Or at least Wednesday...
I did finish the wedding afghan, and thought I'd share a couple of pictures of it with you.
This is a fairly clear photo of the afghan:
This photo is a better representation of the colors (of the afghan, my couch, and my wall!):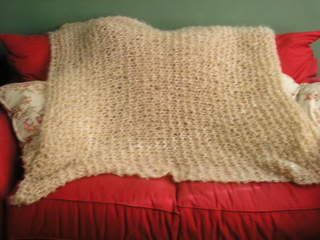 I have to admit that somehow I managed to be surprised by this afghan when it was off the needles. I mean, it's
really
wide. Like crazy wide - but it
is
soft and pretty, and in the end, I just hope the bride and groom like it.
I joined the shoulder seams on the Cowl Sweater this morning, but now it must be blocked before anything else can be done. Without some serious blocking, there's just no way that the sleeves will fit in the armholes. I hope to get to this soon, but I've reached the point in my relationship with the sweater where being with it just makes me a little sad. I'm past blaming it, I've accepted my culpability for all of its boo-boos, I know it's me, not the sweater, but for right now, well, I'd just like to knit a pair of socks, okay?
I've watched a fair amount of football today (woot!) and drank a fair amount of beer (woot! woot!) and Mike and I made a great dinner - scallops, crab meat, artichoke hearts, freshly grated parmesan, and breadcrumbs, baked in a casserole dish and then put in tortillas with some lettuce, tomato, and red onion, so I have to say it's been a pretty good day. Minus the Cowl Sweater sadness. Plus the Wedding Afghan FO happiness.
It's all a balancing act, isn't it?
Have I mentioned I'll be
30
in less than 3 weeks? Do you think this could have anything to do with my general funk?
Thanks, as always, for the great comments - Christina, thanks for the compliment on my table - I LOVE it, and don't have nearly enough reasons to show it to people. If ever you're in Boston, you should come for dinner. :)
Lauren, I think you're right, a little time apart from the sweater is probably in order. ;)
And Hi Secret Pal *waves* - I didn't think you'd forgotten about me, but your comment really made me laugh.
See's
has an online store - but I think their physical stores are all West Coast. Mike and I have made some
wonderful Japanese friends
who have introduced us to about EVERY kind of
Pocky
there is. There's a TON in my fridge right now (thanks
Nao
!)
And no worries about misspelling my name. With a name like Elisa, I'll pretty much answer to anything at this point. I don't take it personally!
I hope you all have a terrific week - happy knitting all!