Short and Sweet
I feel like I had quite a busy weekend, unfortunately, I didn't have a lot of knitting time. Or, if I am being completely honest, I didn't make a lot of time for knitting.
I'm just not thrilled about any of the projects I have going on. I need to get working on my caps for kids, but I had to give up on the Spinnerin Wool. It was SO scratchy, it felt like knitting with cotton candy that has gotten warm and sticky. Not fun at all. I kept thinking that I would NEVER use that yarn for a gift for someone I knew, how could I possibly give it to a child knowing that it might be their ONLY hat??? The answer - I couldn't. So, I'll move on to the Noro, and hope that helps.
It sounds like everyone had a good time at the DC Knit Out - the weather was certainly gorgeous for it. I'm glad that you had terrific weather, and of course, fabulous
company
(I am linking to one Lauren's post from yesterday with a great group pic)!
Mike and I went to a wedding for a friend of ours on Saturday, and even though the rain kept the wedding indoors rather than in the rose garden where it was originally supposed to be, it was just a beautiful day. I told Jess she looked like an advertisement for EVERYTHING, she was so gorgeous. The groom wasn't half bad himself, of course...
Just a couple of pictures for you: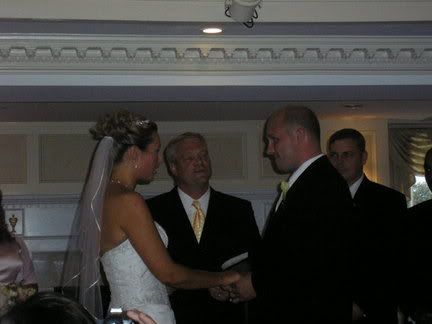 This picture was taken while Jess and Chris were exchanging their vows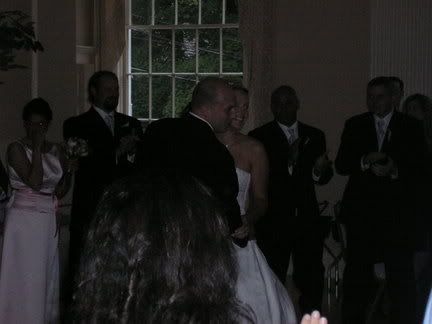 This was taken right before their first dance.
The wedding and reception was at
The Commons
, in Topsfield, Ma., and it was absolutely stunning.
Thank you as always for your wonderful comments - I am always SO excited to hear from you!
Have a great week!