My Fancy Afghan and the Not So Bad Sweater
Well, the afghan isn't really
that
fancy, but it is pretty neat. I'm further along that I thought I would be at this point, and the crazy idea I had that I could finish this afghan before September 18th (and my girlfriend's wedding) now seems like a not-so-crazy idea. Of course, you can imagine that I feel like I'm knitting up a big fluffy dog: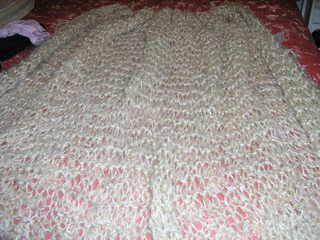 I also wanted to mention that I am no longer on bad terms with the cowl sweater. It seems that spending my time elsewhere has cowed the cowl sweater into behaving better. I present to you the first complete sleeve: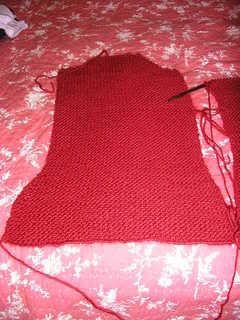 And the two sleeves, together, resting merrily on my quilt: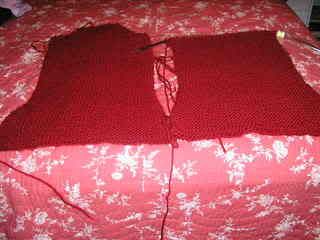 Interestingly enough, lowering the resolution of the photo quality seems to result in truer colors - you can actually tell that this is a RED sweater!
My Secret Pal asked me if I had a preference for chocolate - and just contemplating chocolate seriously was enough to get me thinking about a quick trip to the store...I would have to say that since I grew up in California, See's Candy is probably my favorite, but any chocolate, the darker the better, is just A-OK with me.
Lovely boyfriend and I had a great weekend. We had dinner with friends at their new house (beautiful) on Saturday and went to a cookout at lovely boyfriend's sister's house up in New Hampshire yesterday. I *might* have done a little shopping for my Secret Pal on Sunday, but maybe I didn't. Who knows. ;)
Terrific week to you all!