Mmm...my kind of evening
Or, trying to do five things at once.
What am I trying to do?
Eat a sandwich,
write a blog entry,
plan a stash organization,
plan a stash database,
and drink a beer.
And I have to tell you that I am VERY happy doing these things.
Do you know what happens when I pull out all my stash and my organizational tubbies and containers and sit in my sweat bottoms and pink
Bonnie Prince Billy
t-shirt while Mike is in Frederick, MD, on a business trip?
I sing.
I make up songs about stash and organization.
I look in the mirror, I think about the skein of
Rowan Plaid
I just bought to make Mike mittens, and I get a big, stupid grin on my face, wave my hands in the air, and exclaim "MITTENS!!!".
This morning I read
Heather's
blog, and she
talked about her recent experience at AC Moore
. So, this evening I went to my local AC Moore (I didn't know I had a local AC Moore), and I bought this: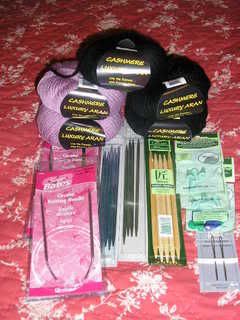 Included in this wonderful haul were two pairs of circular needles, three pairs of dpns, and five skeins of this great cashmere/merino wool blend (ROTFL like a crazy, stash-addled lunatic).
If you thought my adventures ended there, well, you'd be a teensy-weensy bit premature...I started off my evening at
Circles, A Knitting Salon
in Jamaica Plain, Ma.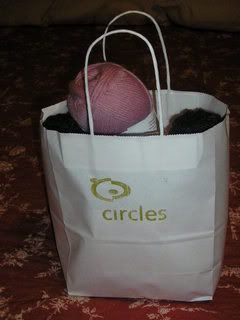 This is the sweet little bag that came home with me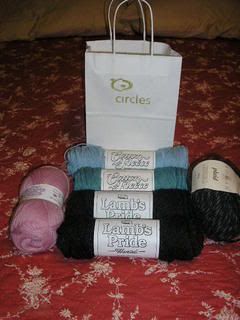 This is what was IN the sweet little bag
But, do you think that's all I did today? Oh no. I bought a copy of Debbie Bliss'
"Baby Knits for Beginners"
and for my wonderful, lovely, terrific boyfriend, I bought the
Star Wars Trilogy on DVD
. And I'm talking about the good trilogy - not the crappy new movies.
If you are wondering what I am planning to do with my newly acquired little skeins of fabulousness, I am planning a few baby hats, a pair of mittens, the French Market Bag from Knitty, and a hat for Mike. Oh boy - I've got to get organizing so I can get swatching!
Countdown to 30th birthday: 11 days!
I hope you are having a terrific week!