If I Were Yarn, I'd Marry Some Noro Silk Garden
May I introduce you to The First Cap For Kids Hat That Makes Me Happy FO?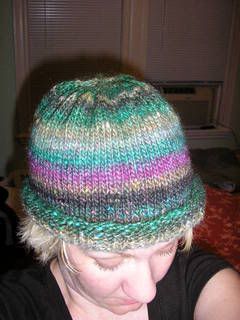 ROTFL like a big nosed, Noro crazed idiot...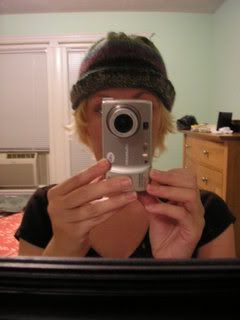 It's really a pretty hat, and I'm very happy with it. I'll take it to work tomorrow and drop off my FIRST donation to the Caps for Kids program.
Sigh...I'm feeling the rush of satisfaction that comes with tackling and finishing smaller projects, as opposed to the sense of inadequacy that comes with trying to seam stupid sleeves into stupid armholes and knowing that there is JUST NO WAY they are going to fit. No, I'm not bitter. I am in a transcendent state of Noro bliss.
I have two, no three, goals for this week:
Buy some Noro Silk Garden to make the Very Harlot Poncho,
Make the Very Harlot Poncho by Saturday, when Mike takes me to Corks in Baltimore for my 30th birthday dinner.
Didn't I just say I liked small projects? Oh well, we all knew it wouldn't last.
Thank you very much for supporting me in embracing the mitten's semi-wonkiness. I hope you all have a terrific week!
Oh, and Amie? I'm on my way to kick AC's butt. ;)