I Am Not Cocky. Stop Looking At Me That Way...
Okay, really, I'm not
cocky
, but at times today, I felt really
stupid
, and cockiness at least feels more intentional. Why did I feel stupid today? I felt stupid because whenever I knit two of something, I think I can just eyeball the second knitted item and it will end up the identical twin of the first knitted item. I am sure that there are knitters out there that eyeball things and end up with identical knitted twins. I end up with fraternal knitted twins - they may look related, but you'd never have trouble telling them apart.
What I'm really trying to say is that the second mitten ended up about 1 1/2" shorter than the first one, and I realy believed that I was on track to identical twins*. I ended up frogging (or as
Knittens'
DH would say "Rabbiting") about 2 1/2", back to the initial set of decreases and from measuring often (read compulsively) from that point on.
The result?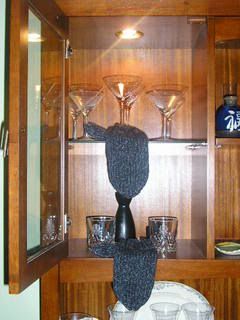 Mike's Mostly Identical Twin Mittens
They're pretty fancy, and they worked hard to get that way, so they wanted their picture taken with the martini glasses. Who can blame them?
Lauren
and my Secret Pal both asked what, if any, pattern I used for the mittens. I found this great pattern on
Alison's blog
, and really enjoyed it. If you are looking for a quick and easy mitten pattern, this is a good one.
You may remember that I started knitting for a Caps for Kids program a few weeks ago. I ended up getting rid of some really bad yarn that was depressing me, and buying some really stupid Muppet yarn (is it just me, or does most novelty yarn have something in common with Muppets?) that depressed me, and I started to get really depressed about not having anything to donate to Caps for Kids yet. This afternoon, after I finished weaving in the ends of the second mitten, I started on the First Cap for Kids Hat That Makes Me Happy:
Not wanting to be left out, the hat had its picture taken with the silver wine goblets.
What I've learned is that there is no more Muppet yarn in my future, and Noro makes me, and hopefully a local Boston kid, very happy...
Have a terrific week all - and happy knitting!
*There are many other things that went wonky with these mittens, but they look really nice, Mike likes them, and the same wonkiness exists on both mittens, so we're just going to pretend it was all intentional from the start. I am not cocky. ;)