WIP Pics
It was a good, busy day at work, but I am very glad to be home now and relaxing next to my lovely BF. Unfortunately, it's almost 9pm and he's still working, but I admire his dedication, and I am trying very hard not to distract him. :) Yay me.
I've sent a few things to the frog pond because I just wasn't happy with how they were turning out - a blanket for Critter Knitters seemed like it would too easily snag little kitty claws, and a face cloth I was making was going to end up ginormous (think enormous but bigger, yes?). So, I thought, "Boy, you really don't have a whole lot going on (please remember that this statement applies only to knitting - I'd like to think I have A LOT going on, otherwise -heh heh heh) right now, which means it would be a good time to take a few pictures". Anyway, out came the camera, out came the bag with the WIPs and y'know what? Four projects. Not too shabby for the girl without it going on.
This is the first sleeve of the cowl sweater. I'm plugging along at it, but I think I've slowed down on this WIP because I really am afraid of re-doing the neckline and having it still be upsetting:
This is my first dishcloth made out of a little peppermint colored cotton. I think it's kind of sweet (yes, I know that was bad):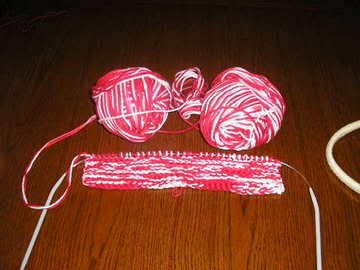 This is an updated picture of the pinkerchief. I really do like it. I just don't remember if I'm supposed to M1 on this row, or just K across. Hmmm...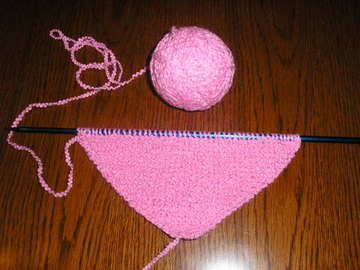 And last, but not least, I present the crazy afghan on my BRAND NEW, JUST ARRIVED IN THE MAIL, 20 mm Addi Turbos. I feel like I am knitting with, oh, I don't know, candlesticks? pogo sticks? Please envision me looking around my house, frowning, scratching my head, trying to find something else as big as my new addi turbos, or just look around your own house, and insert the appropriate awkward sized items here _______:
I spent some quality time blog-hopping yesterday, and I was really glad to find Brainy Lady and sob sister (you can see I've already linked to them - woot!) to name but two, and I was amazed, over and over again, at how creative so many people are.
Here's to you, and wishing you a wonderful week!