No Matter What I Do...
The weekend always ends.
On the bright side, it's been a nice weekend. We've gotten the remnants of Charley in New England today, but yesterday was gorgeous, and I was outside with lovely boyfriend at his company picnic (he, of course, had to take the picture):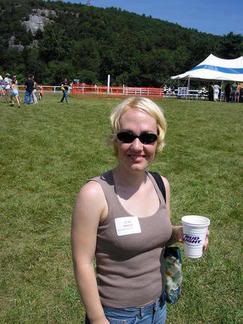 I did get a lot of knitting done this weekend, but I'll tell you a secret - I think I'm afraid...afraid of finishing the front of the cowl sweater, which currently looks like this -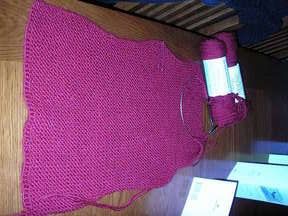 I am afraid because finishing the front of the sweater will mean needing to knit the sleeves (my first), and then sew the shoulder seams (my first), and then set in the sleeves (my first), and then use dpns for the first time and pick up stitches and knit the cowl! Ack...I'm not making myself feel any better.
So, what's the best way to deal with this fear?
I started on this kerchief for one of my small girl friends (she's 3):

It's actually a lovely bright pink made out of some Classic Elite Star that I bought at the Hub Mills Factory Outlet in Lowell, Ma.
Oh, and I had a vodka tonic (thanks for the tasty bevy, lovely boyfriend!).
It has been a great weekend, really, and this week should be fine (minus my dentist appointment on Thursday, gack!). I hope your week is also good, and I wish you lots of happy knitting!