Miraculous Cookouts and My Bad Sweater
So, lovely BF and I went to a cookout at Aki and Nao's (of the fabulous socks) house last night, and when we got in the car to head over, there was lots of thunder and lightning. Since we only live a few miles from them, we expected a big storm, but in fact, the humidity broke, and it was wonderful out all evening. Here are a few pictures -
This is Aki up in his tree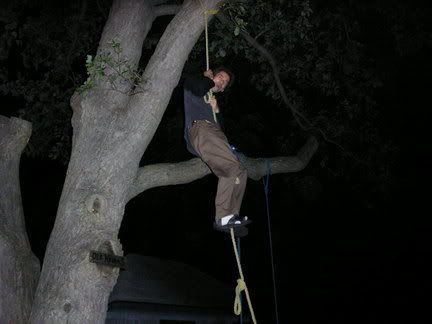 Many people (not including myself or my lovely BF) followed suit, with varying degrees of success.
This is Takakko, Keiko's 11 year old sister, who was part of the reason for the cookout - it was her last night in Boston. We'll miss her!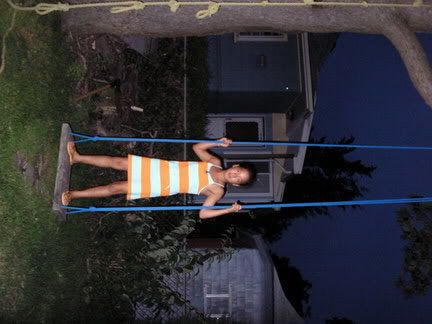 Then Jihua joined the fun (lovely BF is sitting to his left)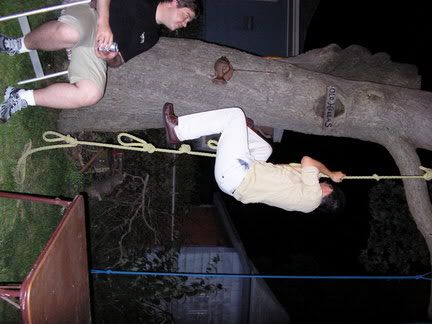 Of course, since it was a cookout, there was lots of BBQ'd stuff: both grilled veggies and hot dogs and hamburgers and cheeseburgers.
Keiko was in charge of veggies: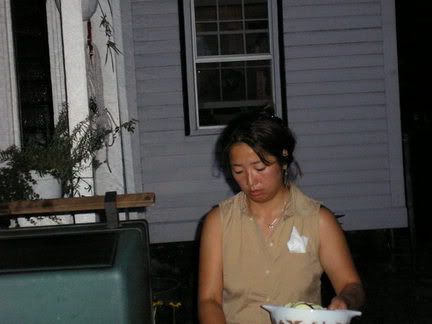 Her husband Tim was in charge of the meat: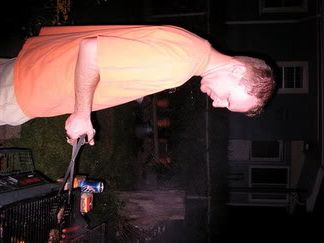 All in all, it was a wonderful evening, terrific food, great company and conversation (there was Giada from Italy; Chen and Jihua from China; Rie, Nao, Aki, Maki, Keiko and Takakko from Japan; and Steve, Dave, Tim, lovely BF, and me from the US), and truly miraculous weather - especially in light of the fact that there are SEVERE thunderstorm warnings in effect for our whole area today.
I also want to share the bad front of my cowl sweater with you. I'm going to have to unravel the bound off bits and frog back to the beginning of the neck, because having the final bound off stitches be in the middle is NOT correct.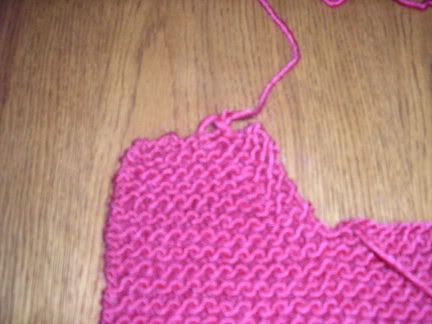 I'm working on one of the sleeves right now, in addition to marveling at the rain, watching the Olympics, and futzing with my blog.
I didn't get out to the LYS to pick out yarn for my G'pa's lapghan, so tomorrow will be the day for that. Thank you for everyone who responded so thoughtfully to my request for suggestions and advice. You're all awesome.
Happy Weekend.